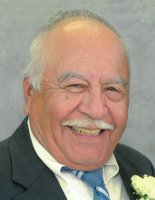 Timoteo "Timmy" Alfaro
Timoteo "Timmy" Alfaro, age 92, of Joliet, passed away peacefully on Saturday, February 8, 2020 at his home surrounded by his loving family.
A long time resident of Joliet, he was born on December 19, 1927 on El Rancho San Jose de Ulapa in Salamanca Guanajuato, Mexico.
He was a retiree of the Elgin, Joliet and Eastern Railway following 37 years of service.
Timmy had a long time hobby of woodworking, gardening and tinkering in his garage. He was the one person who could always make something special out of nothing.
He was a devoted husband, father and grandfather. An instant friend to anyone he would meet, he will be remembered for his infectious smile and laugh.
Survived are his four children, Diana (Patrice) Alfaro-Ricci, Steven (Diana) Alfaro, Alicia Sanchez, and Lydia (Joe Solita) Alfaro; six grandchildren, Salvador, Erica, Breanna, Ethan, Joseph, and Mia; and one great granddaughter, Adelaide; his sisters, Concepcion Alfaro Cornejo and Isabel Alfaro Cornejo; one brother, Jose Alfaro Cornejo; and numerous nieces and nephews.
He was preceded in death by his beloved wife of 62 years, Carmela (Lopez) Alfaro; his parents, Narciso and Aurelia Alfaro; sisters, Eufemia Alfaro Cornejo and Maria Luisa Alfaro Cornejo; and brothers, Jose Alfaro Cornejo and Bernardino Alfaro Cornejo.
The family would like to extend a special thanks to the Joliet Area Community Hospice and to the wonderful caregivers, Alicia, Tammy, Lexie, Sarah, Susan and Frances for the care and devotion given to their father.
In lieu of flowers, memorials in his name to Joliet Area Community Hospice would be appreciated.
Visitation for Timoteo Alfaro will be held on Wednesday, February 12, 2020 from 4:00 to 8:00 p.m., at Fred C. Dames Funeral Home, 3200 Black Road (at Essington Road), Joliet. Funeral services will be Thursday, February 13, at 9:00 a.m. from the funeral home to Our Lady of Mt. Carmel Catholic Church, 205 E. Jackson Street, Joliet. Interment will be in Mt. Olivet Cemetery.
For more information, please call 815-741-5500 or visit at her Memorial Tribute at www.fredcdames.com