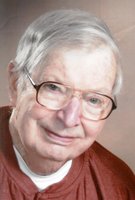 Bruce E. Baxter
Age 89, of Joliet, IL passed away peacefully at home with his family at his side on Saturday, February 8, 2020. He was born September 2, 1930, to the late Gladys and James Baxter in Joliet. He resided in the Joliet/Lockport area most all of his life, attending A.O. Marshall and graduating with the class of 1949 from Joliet Township High School. Bruce always looked forward to being with his grade school classmates at the annual reunions.
Bruce, with his late wife Geraldine, were longtime members of the First United Methodist Church of Lockport. He retired from Apollo Colors in Rockdale and was previously a caretaker at Camp Pokanoka of Trailways Girl Scout Council. He spent most of his years with Texaco Inc. in Lockport and then transferred to the Beaumont Texas Refinery when the Lockport Refinery closed. They made hard and fast friends in their three years there. Bruce often reminisced about his employment with Weber Dairy and DeSandre Construction in his younger years.
Mr. Baxter is survived by two daughters, Dr. Kathleen Baxter, and Cynthia (Baxter) Maki; son-in-law, Allen Mitchell; grandchildren, Amy (Chris) Sybrandy, Cody, Colt and Amanda Eriksen; his first great-grandchild, Greyson, and his four younger brothers-in-law, Tom (Georgia) Allen, Charles Allen, Fred, Jr. Allen, and Stanley (Carol) Allen. He is also survived by many nieces, nephews, and grand-nieces and nephews.
In addition to Geraldine, his beloved wife, and his parents, he is also preceded in death by his daughter, Patricia Mitchell; granddaughter, Taylor Michelle; great-granddaughter, Isabelle Sybrandy; sister-in-law, Marla, and his best friend, Irwin "Mac" McCarthy.
A skilled craftsman and accomplished tinkerer, Bruce was proud of the addition he put on the Lockport homestead. He enjoyed this past Superbowl immensely as well as watching the Blackhawks and old westerns. Stock car races were also a favorite, but nothing made him more content than cruising the backroads with Geraldine and stopping at auto and RV dealerships kicking tires. Their relationship will always be held in our hearts as inspiring; their love for one another, exemplary; and their life together, wonderful.
The Baxter family will always remember the kindness of everyone at J.D. Brown, Newsome Home Care, Joliet Area Community Hospice and the caregivers of Alden Estates.
Visitation for Bruce Baxter will be held Tuesday, February 11, 2020, from 5:00-7:00 p.m. at the Fred C. Dames Funeral Home, 3200 Black Rd. (at Essington Rd.), Joliet. Funeral services will be held on Wednesday, February 12, 2020, 10:30 a.m. at the funeral home. Entombment will follow at Woodlawn Memorial Park Mausoleum. In lieu of flowers, memorials can be made to Joliet Area Community Hospice.
For more information (815) 741-5500 or visit his Memorial Tribute at www.fredcdames.com