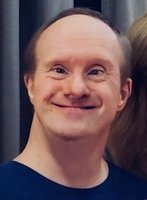 John Kenneth Behnke
John Kenneth Behnke
John Kenneth Behnke, age 59, passed away at home in Plainfield on Wednesday, February 12, 2020, surrounded by the love of his family. John was born in Chicago, IL on January 23, 1961, the only son of the late Kenneth John and Arlene (nee Rossin) Behnke. He grew up in Chicago and has been with Cornerstone Services in Joliet for the past eight years where he enjoyed making new friends and was very active in the art program. John was always an active person and was a talented painter. In his younger years, he was involved in Special Olympics.
John was always happy and was never seen without a smile on his face. He loved his family more than anything and brought joy to everyone he knew. John gave the true meaning of enjoying each day and taught his family the importance of living life to the fullest.
John is survived by his three sisters, Bonnie (William) Kleinmark, Roseann (Bob) Fabis, and Karen Slivka; nieces and nephews, Bob (Kristina) Fabis, Ken (Mallory) Fabis, Alysse Bratcher, Jimmy (Liz Turk) Slivka, Kristin (Tim Zahm) Slivka, Tyler Fabis, Abbey Slivka, Zach Fabis, Olivia Fabis, and Addison Fabis; and his brother-in-law, Jim Slivka. Several aunts, uncles, cousins, along with "The Guys" and numerous friends at Cornerstone, also survive.
The family would like to extend a sincere thank you to the staff at Cornerstone for the exceptional love and care they provided to John over the last eight years.
Funeral Services for John Kenneth Behnke will be held on Tuesday, February 18, 2020, at 9:15 a.m. from the Fred C. Dames Funeral Home, 3200 Black Rd. (at Essington Rd.), Joliet, to Holy Family Catholic Church, for Mass of Christian Burial to be celebrated at 10:00 a.m. Entombment will follow at Resurrection Cemetery, Justice, IL. Visitation will be held on Monday at the funeral home from 5:00 p.m. to 8:00 p.m. In lieu of flowers, memorials in his name to Cornerstone Services Art Program, 777 Joyce Rd., Joliet, IL 60436, would be appreciated. For more information, please call 815-741-5500 or visit his Memorial Tribute atwww.fredcdames.com