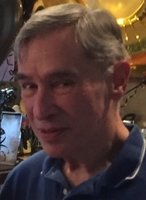 Albert F. Georgio, Jr.
Age 78, of Shorewood, passed away Thursday, March 19, 2020. Albert was born May 28, 1941, and educated in Bronx, NY, the son of the late Albert Sr. and Rosalie (Caruso) Georgio.
He met Rose Antonino of Brooklyn in New York City where he always said it was love at first sight and they married September 21, 1963. Albert and Rose remained in New York for the next 13 years, they made their home in Illinois from 1976-1991, relocating to the Tampa area of Florida from 1991-2008 moving back to Illinois to be closer to their children and grandchildren.
Albert was employed by MetLife from 1959 until 1996 following 37 years of service. Albert had a passion for cooking. He enrolled in a culinary arts school in 1996, serving his apprenticeship at Saddlebrook Resort and Spa, Tampa, FL where he remained until he became employed by Publix Grocery Store where he was instrumental in the development of their test kitchen until his retirement in 2005. Albert was also a member of the New York National Guard.
He is survived by his loving wife of 56 years, Rose (Antonino) Georgio of Shorewood, IL; two daughters, Andrea (Joe) Coscino of Naperville, and Ally Pierson of Romeoville; seven grandchildren Kaylie, Michael, Steven, Alyssa, and Daniel Coscino, Karli and Brady Pierson.
Private funeral services for Albert F. Georgio Jr. will be held by the family. A public memorial service will be announced at a later date. Memorials in his name to the American Heart Association would be appreciated.
For more information please call (815)741-5500 or to leave a condolence for the family, please visit his memorial page at www.fredcddames.com