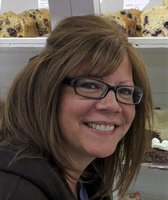 Nicole Renee Pfeifer
Nicole Renee Pfeifer, age 50, of Plainfield, passed away peacefully on Saturday, March 21, 2020 at Presence St. Joseph Medical Center, following a courageous battle with cancer.
Nicole was born July 22, 1969 in Chicago Heights, to the late Larry A. and Carolyn K. (Pelock) Pfeifer, and was a graduate of St. Francis Academy, Class of 1987. She worked as a customer service manager for Sound, Inc. in Naperville for 30 years, and continued trying to faithfully serve her customers even as health issues limited her ability to work.
She was a long-time resident of the Plainfield area and enjoyed the many parks and recreational areas where she cherished long walks with her beloved dog, Lucy. Nicole also loved to spend time with her family and friends.
One of the great joys of her life was watching the Chicago Cubs win the World Series.
She will be remembered for her huge heart, gentle spirit, and compassion for others. She also had an unwavering love for all animals.
Surviving is her loving and devoted partner, Christopher Zophy, along with her many cousins, extended family and friends.
Services for Nicole Pfeifer will be private. Family and friends are invited to visit her Memorial Tribute page at www.fredcdames.com to view her Memorial Video, leave online condolences, and post a special memory or share a favorite story.
In lieu of flowers, donations in her name can be made to your local animal shelter or to The Nature Foundation of Will County at https://www.willcountynature.org/donate.html or to the Fox Valley Wildlife Center at https://www.fvwc.org
Fred C. Dames Funeral Home is in charge of arrangements. For more information, please call (815) 741-5500 or visit www.fredcdames.com