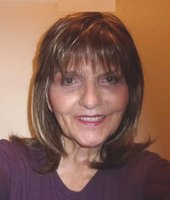 Carmella Justice
Carmella Justice, (nee Giunta), age 82, formerly of Channahon, passed away Friday, May 8, 2020 at St. Patrick's Residence in Naperville.
Born October 5, 1937 in Chicago, she was the daughter of the late Carl and Rose (Moreci) Giunta. She married Grant R. Justice and he preceded her in death August 24, 2019.
Carmella was a loving and caring wife, sister, aunt, and great-aunt who will be remembered for her wonderful sense of humor.
She was a devoted sister to Joseph (Patricia) Giunta of Plainfield; a dear aunt to Joseph(Tracy) Giunta, David (Becca) Giunta, and Debra Giunta; and a fond great-aunt to Joseph, Gianni, and Massimo.
Funeral services for Carmella Justice will be private and interment will be in Abraham Lincoln National Cemetery.
Family and friends are invited to visit Carmella's Memorial Tribute page at www.fredcdames.com to leave a condolence, or share a favorite memory or story.
For more information, please call (815) 741-5500 or visit www.fredcdames.com