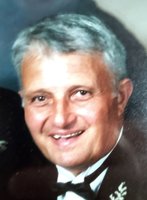 Eugenio Cosentino
Eugenio Cosentino, age 81, of Joliet, passed away peacefully, Tuesday, July 21, 2020 at RML Specialty Hospital in Hinsdale.
Born May 30, 1939 in Italy, he was the son of the late Galante and Rosina Cosentino. He received his education in Italy and served two years in the Italian Army prior to coming to the United States in 1963. Eugenio was a proud member of Sheet Metal Workers Union Local #73, and worked over 35 years for G. E. Mathis Company.
A loving and devoted husband, father and grandfather, he lived to take care of his family and was very proud of his home and yard.
Surviving are his beloved wife of 57 years, Anna (Caruso) Cosentino of Joliet; two sons, Gino Cosentino of Joliet, and Sergio (Kathy) Cosentino of Plainfield; and three grandchildren, Gina, Lucas and Talia Cosentino.
Visitation for Eugenio Cosentino will be held Friday, July 24, 2020 from 10:00 a.m. until the time of funeral services at Noon at the Fred C. Dames Funeral Home, 3200 Black Road (at Essington Road), Joliet. Entombment will be in Assumption Cemetery Mausoleum in Winfield.
Family and friends are invited to visit his Memorial Tribute at www.fredcdames.com where you may post a condolence, or share a memory or favorite story.
Fred C. Dames Funeral Home is in charge of arrangements. For more information, please call (815) 741-5500 or visit www.fredcdames.com