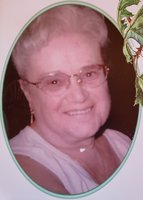 Johanna H. Altrock
Johanna H. Altrock passed away peacefully on Monday, July 20, 2020, at The Gardens of Park Pointe in Morris. She was born June 30, 1931, to the late Joseph and Otilie Kubowicz in Germany. Johanna had a love for gardening, gambling, traveling, and her beloved cats.
Survived by her children, Angelica 'Hasi' (Ray) Bachewicz, and Ingrid (Kenny) Bryant; grandchildren, Raymond (Lisa) Bachewicz, Paul (Melissa) Willuhn, Sharon Bachewicz, and Sarah Altrock; great-grandchildren, John and Justin Kroll, Sebastian Brown and William Bachewicz.
Preceded by her husband Heinz B. Altrock and one son Heinz O. Altrock.
As it was Johanna's wish her body was donated to the Anatomical Gift Association of Illinois. Memorial contributions in her name to The Anti-Cruelty Society www.anticruelty.org/donate) or The American Cancer Society www.cancer.org/donate) would be appreciated. Fred C. Dames Funeral Home in Morris is in charge of arrangements. For information, please call (815) 942-5040 or visit her memorial tribute at www.fredcdames.com to share a special memory or story of her.