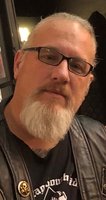 Richie Mroch
Age 54 of Joliet, born in Oak Lawn, passed away unexpectedly Saturday, October 10, 2020.
Richie was a long-standing member of the South Side Chicago Chapter of the Outlaws Motorcycle Club. His love and dedication to the Outlaw Nation were beyond measure. Richie stood strong and proud for the club when called upon.
He was devoted to his family, fiancé', friends, and club brothers. He was an avid reader, loved history, and a motorcycle and Cadillac enthusiast. He could enjoy a quiet evening at home with his beloved Tina and Dog; or he could be the "Rockstar" of the night, out with all who knew and loved him. When you met Richie, he was a stranger, when you left him, he was your friend.
He is the beloved fiancé' of Tina Flamm; loving son of Richard Mroch and Carole Mroch; dear brother of Mark (Meghan Murphy), Joe (Emily), and Mike; and doting uncle to Hannah. He was loved by his future stepchildren; Christina Flamm, her son Robert Hornbuckle, and Josh (Amanda) Flamm. Father to Rachel Mcquay, and grandfather to Shyla.
He will be loved and missed by all.
Visitation will be Friday, October 16, 2020, at the Fred C. Dames Funeral Home, 3200 Black Rd. (at Essington Rd.), Joliet, from 3-7 p.m. At the conclusion of visitation, Richie will be escorted to the Chicago South Side Outlaws Clubhouse, 2601 W. 25th St., Chicago where visitation will continue from the time of arrival until Saturday, October 17, 2020, at 3 p.m. Richie will then take his final ride back to Fred C. Dames where private disposition will be conducted.