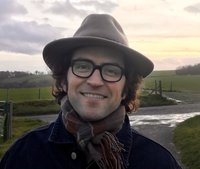 Ryan Brady
Ryan Brady, age 34, of Los Angeles, formerly of Prospect Heights, passed away on Thursday, November 26, 2020 as the result of injuries sustained in an automobile accident. We are devastated as a family that such a kind, creative and giving soul, that gave so much of himself to us, has left this earth. He is survived by his wife, Annabel Jones, his parents Terry and Suzan, his brothers Brett and Tyler, his grandmothers Paula Brady and Ricky Schlossberg, and host of aunts, uncles, cousins and very special friends.
A Chicago-native, Ryan was a graduate of Wheeling High School (2004) and Northwestern University Class of 2008. He earned his Bachelor's degree in economics and a minor/certificate in music technology and sound design. In addition, he served as board member of the Northwestern Sound Arts and Industries Advisory Board.
Ryan was an accomplished musician playing in several bands and venues in the Chicagoland area. He had a love for music his entire life. In a quote from a Northwestern article, Ryan said that he was always interested in having a career in music, "Yes, I was always interested in the music industry and wanted to pursue it with a certainty in high school. Very simply, I love music, everything about it and what surrounds it."
Following his graduation from Northwestern University, Ryan was hired as a digital marketing coordinator at Atlantic Records. Over the next decade, he rose through the label ranks and pioneered Atlantic's first proper Artist Development Department, where he helped launch the careers of Ty Dolla $ign, Meg Myers, O.T. Genasis and Absofacto. Ryan also worked with Alt-J, B.o.B, Busta Rhymes, Circa Survive, Death Cab For Cutie, Ed Sheeran, Halestorm, Jake Troth, Kid Rock, Marina and The Diamonds, Phil Collins, Plan B, Straight No Chaser, Uncle Kracker, and many more.
In September 2018, Brady was named President at Ricky Reed's Atlantic sub-label Nice Life, where he led marketing efforts for Lizzo's Grammy-winning breakthrough album Cuz I Love You. In April 2019, he returned to Atlantic as Vice President of Marketing, where he helped spearhead campaigns for the SCOOB! Soundtrack as well as releases by Charlie Puth and emerging artists Faouzia and Jake Troth. He was currently working on new albums for both Weezer and Coldplay. While at Atlantic, Ryan was able to share one of his favorite highlights of having a career in the music industry:
There's nothing quite like the rush of watching an unknown artist break through into the cultural consciousness and achieve success – from struggling to having more money than they know what to do with. … There's a big rush in that process and I've seen that a few times. I'm always chasing that feeling. You also get to be around other creative people and to make things from out of thin air. Is there anything better than that? If there is, I don't want to know about it.
His creativity and tenacity led to his rise and success as Vice President of Marketing for Atlantic Records . He is also the co-founder and co-host of the hit Beatles podcast "Take It Away: The Complete Paul McCartney Archive Podcast", on which he and co-host Chris Mercer broke down each of McCartney's solo releases between 1970 and the present day. He is also the co-host and co-founder of the new podcast, "Now Hear This Podcast" with Paul Kaminski.
Ryan described himself on his LinkedIn profile as a "Marketing maverick with a demonstrated track record of launching culture defining artist and media projects." In an email to Billboard, Ryan's colleague, Chris Mercer said, "In addition to his accomplishments as a marketing VP at Atlantic and as a beloved podcaster, Ryan was a gifted musician and producer…His love for music was generous and open-minded. This love was infectious, reminding all of us why we were cared about music in the first place. My experience as his friend and collaborator was a deeply enriching adventure."
While helping to advance the careers of so many, Ryan immersed himself in his craft by writing and performing his own music. Ryan's life will forever live on in his family, his friends, and his music. Ryan's motto was "leave everyone better than you found them."
A gathering of friends and family for Ryan Brady will be held on Saturday December 12, 2020 at St. Edna Catholic Church 2525 N. Arlington Heights Road, Arlington Heights, IL. 60004, at 9:00 a.m. A sharing of memories will begin at 9:30, with the Memorial Mass to be celebrated at 10 a.m. with Fr. Darrio officiating. Live streaming of the services will begin at 9:30 and can be viewed at https://youtu.be/3MbC4lGi1UI As it was Ryan's request Cremation Rites Have been accorded. Due to the restrictions of Covid 19 the family will have a celebration of life with music food and drinks in the spring; we know that this is what he would have wanted. Donations made to the Harmony Project in Ryan's name would be appreciated at https://www.harmony-project.org/brady For more information you may phone (815) 741-5500 or visit his memory tribute at www.fredcdames.com
Thank you to Billboard, Vanity Fair, Northwestern's Advisory Board and Heavy.com publications for the contribution to this notice.