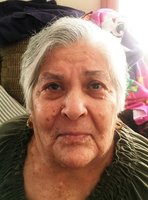 Herminia Guzman
Herminia Guzman, age 80, of Joliet, passed away peacefully, Monday, January 4, 2021 at Silver Cross Hospital.
Born April 25, 1940 in Celaya, Guanajuato, Mexico, she was the daughter of the late Simon and Juana (Martinez) Rodriguez. Herminia was a devoted and caring wife, mother, grandmother, and great grandmother. She was a loving, humble person who welcomed everyone with open arms. Always happy to be surrounded by her family, being with her family was the ultimate thing she looked forward to most. She was a strong person, the family stone, who gave her family strength. She will be remembered for always being in her kitchen cooking and baking for everyone and no one could beat her cooking skills.
Although she may be gone physically, her family knows she will always be with them in their hearts even though she is not here by our side.
Surviving are her beloved children, Josefina (Jose) Sanchez, Honorina (Gonzalo) Manzo, Apolinar Guzman, Eufrocina (Uriel) Herrera, Maria Guzman, and Martha Garcia; her adoring grandchildren, Josefina Sanchez, Miguel Sanchez, Luz Maria (Justin Lincoln) Sanchez, Rocio (Juan) Rivera, Gonzalo (Desirea Rodriguez) Manzo, Jr., Julia Manzo, Jessica (Ernesto Guzman) Manzo, Maria Guzman, Monica Guzman, Daniela Guzman, Krystal Guzman, Rosario Guzman, Jose Manuel (Daisy) Sanchez, Lydia (Hugo) Sanchez, Agustin Sanchez, Estefania (Ignacio Reyes) Sanchez, Greg (Rebecca) Haro, Martin Garcia and Daniel Garcia; 34 great-grandchildren; two brothers, Marcelino Rodriguez and Daniel Rodriguez; and many nieces and nephews.
She was preceded in death by her beloved husband, Julian Guzman; her parents; and a sister, Maria Irene Rodriguez.
Funeral services for Herminia Guzman will be held Friday, January 8, 2021 at 11:30 a.m., at the Cathedral of St. Raymond Nonnatus, 604 N. Raynor Avenue, Joliet, IL. Interment will be in Mt. Olivet Cemetery, Joliet. Visitation will be private.
Fred C. Dames Funeral Home is in charge of arrangements. For more information, please call (815) 741-5500 or visit her Memorial tribute at www.fredcdames.com