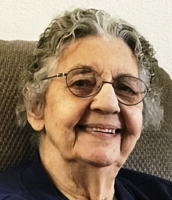 Rose L. Benco Evans
Rose Lorraine Benco Evans, née Vercelli, age 92, of Joliet, passed away Tuesday, January 5, 2021 at Elevate Care in Riverwoods, IL.
Rose was born February 4, 1928 in Joliet and was a lifelong resident of this area. She graduated from Providence High School in 1945, and was a member of St. Mary Immaculate Church in Plainfield, the VFW Auxiliary, and was a volunteer at Our Lady of Angels Retirement Home.
Surviving are her six sons, David Benco of New Jersey, Donald (Mary Jo) Benco of New Mexico, Daniel (the late Carol) Benco of Illinois, John Benco of Utah, Robert Benco of California and Rudolph Benco of Texas; nine grandchildren, James Benco, Ryan Benco, Sarah (Ethan) Seamans, Nate (Monica) Benco, Martha Benco, Alex Benco, Cassie Benco, Maddox Benco and Verity Benco; three great-grandchildren, Tyler, Nic and Connor; four step-children, many step-grandchildren and step-great-grandchildren; one sister-in-law, Janet Vercelli; and numerous nieces, nephews and cousins.
Preceded in death by her husband, Rudolph Benco (1974); her husband, Robert Evans (1995); one grandson, Jackson Benco; her parents, John and Mary (Heck) Vercelli; and three brothers, John (LaRue) Vercelli, Edward (Helen) Vercelli and Robert Vercelli.
Visitation for Rose Benco Evans will be held Sunday, January 10, 2021 from 2:00 to 5:00 p.m. at the Fred C. Dames Funeral Home, 3200 Black Road, (at Essington Road), Joliet. Funeral services will be Monday, January 11, 2021 at 9:45 a.m. from the funeral home to St. Mary Immaculate Catholic Church, Plainfield, for a Mass of Christian Burial at 10:30 a.m. Interment will be private.
For more information, please call 815-741-5500 or visit her Memorial Tribute at www.fredcdames.com