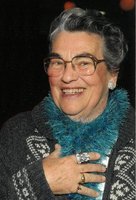 Faye Earlene Wheeler
Age 88, of Lockport, IL passed away Thursday, January 7, 2021, in her home. She was born November 2, 1932, in Joliet to Mildred (Clugston) and Earl Livingston Smith. She was a member of Shepherd of the Hill Lutheran Church, Lockport.
Preceded in death by her husband, Robert Franklin Wheeler; son-in-law, Phillip Joseph Matarelli; and her parents.
Survived by her daughter, Judy Lynn (Wheeler) Matarelli of Lockport; two grandchildren, Jill (John) Matarelli Carlson of Greenville, NC, and Paul (Zoryana) Joseph Matarelli of Brooklyn, NY; her sister, Carol Rae (Smith) Cook of Joliet; brother-in-law, Charles Wheeler; sister-in-law, Harriet (Wheeler) Opelt; numerous nieces, nephews, and their children.
Faye taught private piano and organ lessons in her home for more than 50 years and was an active member of the Joliet Area Theater Organ Enthusiasts (JATOE) and American Theatre Organists Society (ATOS). Her theater pipe organ was a centerpiece to wonderful concerts and gatherings in their home to people from all over the world. Both the home and organ were lovingly constructed by her husband, Bob. She was an avid world traveler and Italian wine enthusiast. Her indomitable personality, wit, candor, and shrewd negotiating skills ("What's your best price on these 25 cent postcards?") will be missed by all.
Due to the COVID virus, the burial service for Faye will be invite-only and limited to close family and friends on Wednesday, January 13, 2021, at Barnet Cemetery in Homer Township at 1:30 p.m., Pastor Jon Pedersen officiating. An organ concert in celebration of her life will be held later in the year once it is safe to congregate in public. In lieu of flowers, please consider donations to JATOE, ATOS, or Shepherd of the Hill Lutheran Church in her memory. Please visit www.fredcdames.com where you may share a favorite memory or leave an online condolence.