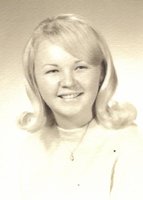 Debra Grace "Debbie" Snyder
Debra Grace "Debbie" Snyder
(nee Tyda)
Debra Grace Snyder, age 69, passed away on Monday, January 11, 2021, at St. Joseph Medical Center. She was born in Joliet on July 24, 1951, the daughter of the late Lawrence and Florence (nee Henry) Tyda. Debbie was raised and educated in New Lenox and was a graduate of Lincoln-Way High School, Class of 1969. She started her career in the medical field after graduation from high school, working at St. Joseph Hospital as a transcriptionist. She then went on to a private practice in New Lenox as a Medical Assistant and worked as a Phlebotomist with several medical labs. After numerous dedicated years, Debbie retired from the medical field and worked for Dr. Francis Tomasik.
Debbie was a member of the VFW Auxiliary and was a former member of Our Savior Lutheran Church and First Lutheran Church in Joliet, where she was baptized, confirmed, and married. In her free time, she enjoyed crocheting and spending her time with her family. Debbie loved spending her time in the kitchen cooking and baking, especially during the holidays.
Debbie is survived by her loving husband of almost 51 years, Terry L. Snyder; daughter, Laura (David) Lytle; grandson, James Lytle; siblings, Sandra Kinnett, Larry (Joy) Tyda, Mark (Karen Fitzpatrick) Tyda, and Bonnie Johnson; in-laws, John (Yosie) Snyder, and Derral( Barbara) Snyder; her niece, Anna Karpola, whom she had a special relationship with; and her dear friend, Janet Bonds. Numerous nieces, nephews, and cousins also survive.
She is preceded by her parents; her husband's parents, Allen and Kathryne Snyder; and her in-laws, Kenneth "Bud" Snyder and Orville "Gene" Snyder.
The family would like to extend a special thank you to Dr. Daniele DeGirolami for the care and compassion shown to Debbie.
Visitation for Debra Grace Snyder will be held on Friday, January 15, 2021, from 9:00 a.m. to 11:00 a.m. at the Fred C. Dames Funeral Home, 3200 Black Rd. (at Essington), Joliet, IL. In accordance with the Illinois guidelines, a 10 person capacity will be followed. Face masks are required and social distancing will be observed.
The family has requested to live stream the services of their loved one on Friday, January 15, 2021, at 11:30 a.m. Please click on this link (https://youtu.be/l9qbELolXQ4 ) and follow the instructions to show your support for them at a time when you cannot be physically present, but your thoughts, prayers, and connection are.
Interment will take place privately by the family at Abraham Lincoln National Cemetery in Elwood, IL.
In lieu of flowers, memorials in her name to the American Diabetes Association would be appreciated. For more information, please call 815-741-5500 or visit her Memorial Tribute at www.fredcdames.com