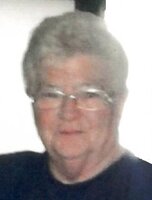 Litha A. Thorson
Litha A. Thorson, age 75, of Marion, IL, and formerly of Morris and Joliet, passed away Monday, August 30, 2021 at her late residence.
Litha was born April 14, 1946 in Chester, IL, and raised in Joliet. She worked in various capacities and as a librarian for the University of St. Francis for over 30 years.
A loving and devoted wife, mother, grandmother and great-grandmother, she lived for her grandchildren. Time spent with her family was the most important thing in her life, and many happy memories were made spending weekends camping.
Surviving are her husband, James A. Thorson of Marion; her daughter, Lynn (Mark) Mrazek of Palos Park, IL; her son, Brian (Stephanie) Thorson; six grandchildren, Eric (Desarai) Carver, Christopher (Meghan) Thorson, Chasity (Britton) Kirk, Kameron Coutee, Joshua Thorson, and Kaycee Thorson; six great-grandchildren, Levi Carver, Kandace Carver, Cade Thorson, and Paisley, Faith and Lennox Kirk; and many nieces, nephews and cousins.
She was preceded in death her mother, Reese Martin; one son, Randall Funk; and her brothers and sisters.
Funeral services for Litha Thorson will be held Tuesday, September 7, 2021 at 4:00 p.m., at the Fred C. Dames Funeral Home, 3200 Black Road, Joliet, and will be followed by visitation until 8:00 p.m. Interment in Woodlawn Memorial Park will be private.
For more information, please call (815) 741-5500 or visit her Memorial Tribute at www.fredcdames.com