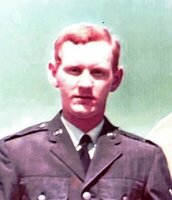 Lawrence R. "Larry" McLean
Lawrence R. "Larry" McLean, age 67, passed away peacefully at his home in Seneca on Monday, September 13, 2021, with his family by his side. Born on March 15, 1954, in Joliet to the late Richard N. and Patricia McLean, Larry was a lifelong area resident. He was a Veteran of the United States Air Force, having served during the Vietnam War. After returning home, Larry began working for EJ&E, and then on to Exelon at the Lasalle Station where he worked for over 30 years before retirement. After retiring, Larry enjoyed his time on the golf course.
Larry is survived by his loving wife of nearly 45 years, Bua McLean; his three sons, Sucharrt (Jessica) Ramintho, Benjamin McLean, and Richard (Ann) McLean; his grandchildren Reyna, Lauryn, Joshua, Elizabeth, Matthew, Vanessa, and Johnathan; his brother, James R. (Susan) McLean; his sisters, Kathleen (the late John) Ramsey, and Carol M. Huddleston; and numerous nieces and nephews also survive.
He was preceded in death by his parents; brothers, Robert S. (JoAnn) McLean, and Steven McLean, and one sister, Patricia M. Kilby.
Funeral services for Larry McLean will take place on Saturday, September 18, 2021, at the Fred C. Dames Funeral Home, 1201 W. Route 6 at Deerpath Drive in Morris at 6:00 p.m. Following services, cremation rites will be accorded, and Inurnment will take place on Monday, September 20, 2021, beginning at the funeral chapel at 8:00 a.m. and processing to Abraham Lincoln National Cemetery where Larry will be given full military honors by the United States Air Force. Visitation for Larry will take place on Saturday from 2:00 p.m. until the time of services at 6:00 p.m. at the funeral home chapel. For more information, please call 815-942-5040 or visit his Memorial Tribute page at www.fredcdames.com