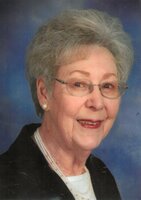 Ruth M. Salter
Ruth M. Salter, age 95, passed away peacefully, Monday, November 15, 2021 at Lightways Hospice, Joliet, IL. She was born on June 11, 1926 to the late Sarah Pauline and Henry Pharr.
Born in Star, North Carolina, and raised in Lawrenceville, Virginia, Ruth remained a quintessential southern woman throughout her life. While working at the Pentagon in Washington D.C., she met her husband, Bill, at a USO dance after he completed his military service. Before settling in Joliet, they moved many times once as far away as Glasgow, Scotland.
Ruth was a faithful and active member of Grace United Methodist Church, a member of the Grace Circle, and volunteered in many capacities. Ruth was generous with her time, talents and heart. She was known to hand out $5 bills to strangers in need, eagerly teach anyone interested to knit or crochet, and surprise friends with loaves of her legendary banana bread. She volunteered for many organizations including Senior Services of Will County and Meals-on-Wheels and earned the Rotary Club Community Service Award. Even more important to her, were her roles of wife, mother, grandmother, great-grandmother and friend.
Ruth was preceded in death by her husband of 67 years, William 'Bill' F. Salter; her parents; siblings, Dorothy Lumpkin, Leah Barnes and James Pharr.
She is survived by three daughters, Cynthia (Jay) Caswell of Shorewood, Brenda (Jerry) Waldron of Westport, CT, and Virginia Salter-Geissler of Leipzig, Germany; a son, Ian Salter of Clarksville, TN; ten grandchildren, Tracy Caswell (Robert Bodach), Ross Caswell, Joy (Andy) Fraser, Jaclyn Sharp, Gregor Geissler, Justin Fye, Joshua, Jordan, Jacob and Anna Salter; three great-grandchildren, Max and Caswell Fraser and Hawke Thopsey; a sister-in-law, Florence Campbell; and several nieces and nephews.
The celebration of Ruth M. Salter's life will include a visitation on Wednesday, November 24 from 10:00 a.m. until 12 Noon with the funeral service to immediately follow at Grace United Methodist Church, 1718 Avalon Avenue, Joliet, IL. Only healthy, Covid-19 vaccinated guests are asked to attend. Per Illinois guidelines, masks are required. Interment will follow at Abraham Lincoln National Cemetery.
In lieu of flowers, memorials to Lightways Hospice or Grace United Methodist Church will be appreciated.
Fred C. Dames Funeral Home, Joliet is entrusted with services. For more information, please call 815-741-5500 or visit www.fredcdames.com where you can share a favorite memory or leave a message.