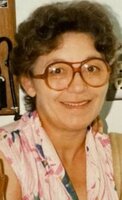 Ruth "Rachal" LeCour
I'm certain those who have lived, loved and known Ruth (aka Doke/Ma/Grandma) over the near-century that was her life, will look to this in some hope of saying goodbye. My fear is that I simply have no words that can come close to honoring a legacy of memories she has so richly bestowed in each of us over our entire lives.
There is a time in every kid's life when they discover we are all going to die, and shortly thereafter (one day) that they will have to say goodbye to their mom. It's something you never forget, and Ma (who has long since transferred her title to Grandma) was kind to us all in that she lived a long life and afforded us time to manage that fear; in fact grandma lived so long that I literally stopped saying goodbye altogether and instead I would always say in departing "See ya later Ma" because she simply was "Always" there.
Ruth was there with her peers of the Greatest Generation to live through wars, depression, women's rights, civil rights, and strived to bring honor to a century of Americans by teaching the importance of working hard, maintaining a moral compass, and loving one another. Doke stood arm and arm with my Dad to leave a simple country existence in search for a brighter future for her kids in Chicago. Ma Raised her kids to learn from their mistakes; She created everlasting memories of love and hope for 5 kids who fought her tooth and nail the entire way but never, ever grew tired. Grandma raised and loved every child in her family selflessly and with every ounce of her until she had given nothing less than her all.
I have never and nor will I ever meet another person who was so doggedly devoted to the ones she loved and cared for, and while I watched her fade in the waning years of her life (especially after the passing of her beloved daughter Carol) I know it was something beyond her control, I have personal stories that span decades of this woman residing only as far as a thought away. I treasure those like few others because they are unique between my mom and I as I know your memories are likewise unique. So, how do I say goodbye? How do any of us say goodbye? I remembered my childhood fear of my mom's passing almost immediately in the grieving wails of my 5-year-old (Zayn) on hearing of the passing of his grandma; it left an indelible reminder that although I buried that thought decades ago it still stings like a fresh wound.
My mom had a habit of repeating things and one thing she would always say on a sunny day was – "Look at that bright sunshine". I can get by on that until I see what an afterlife brings because (although not a very religious man) I know that if there is a God, Ruth/Doke/Ma/Grandma will be there, if not it's not a place I would want to be anyway. So, not going to say goodbye for now and instead just hold onto what has always been my guiding light, look forward to days of bright sunshine and say -
See ya later Ma!
Love from us all XOXOXO
Ruth (Rachal) LeCour
Age 96. Born in Louisiana and residing in Manhattan, IL since 1985. Loving Mother and Grand Mother.
Survived are her four children Joe (Jennifer) LeCour of Joliet, Tim LeCour of Chicago, Daniel (Sabeena) LeCour of Chicago and Thomas LeCour of Manhattan; seven grandchildren, Jeff, Timmy, Angie, Aubrey, Kaitlyn, Ayaan, and Zayn
Reunited with Her loving husband Hayden with final inurnment at Abraham Lincoln National Cemetery. May Ruth join those that have left before her in life and be forever remembered by those she has left behind.