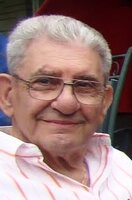 John Louis Pissinis
John Louis Pissinis, age 89, of Joliet, passed away Thursday, March 3, 2022 at the Parc of Joliet.
Born December 3, 1932 in Joliet, he was the son of Louis and Mary (Balegno) Pissinis. He was a graduate of Joliet Catholic High School, Class of 1951, and attended Lewis University.
John was a proud veteran of the United States Navy, enlisting in 1955, and completing his basic training at the Great Lakes Naval Station. During his two years with the navy he served as a Pharmacist's Mate and Hospital Corpsman.
During high school he worked as a caddie at the local golf course and frequently caddied for Al Baskin. Mr. Baskin recognized his talents and insisted John come work for him at his store in Joliet, which John did for several years. He later went to work for NICOR, completing 31 years of dedicated service until retirement.
Surviving are his first cousins and godchildren, Karen (Mel) Vota of Morris, Louis A. (Sherri) Balegno of Coal City, and Clarissa Lavicka of Marseilles; their children, Steffen Balegno, Jonathan (Leanne) Vota, Andrew Vota, and Katie (Brian) Evans; and the third generation of cousins, Sophia, Olivia, Parker and Lily.
John was preceded in death by his parents; a sister in infancy; uncles and aunts, Fred "Pete" and Louise Campbell, Louis and Margaret Balegno, and Clarence and Theresa Lavicka; and a cousin, Rita Balegno.
Visitation for John Pissinis will be held Wednesday, March 9, 2022 from 9:00 a.m. until the time of funeral services at 11:00 a.m., at the Fred C. Dames Funeral Home, 3200 Black Road, Joliet. Interment will follow in Abraham Lincoln National Cemetery, where military honors will be accorded by the United States Navy.
For more information, please call (815) 741-5500 or visit his Memorial Tribute at www.fredcdames.com