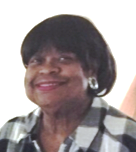 Ramona P. Sims
Ramona P. Sims was born June 5, 1942 to the union of John Jackson and Johnnie P. (McGee) Jackson, the fifth daughter.
Ramona was educated in the Chicago Public School system, graduating from Chicago Vocational.
Ramona met and married Robert L. Sims in August, 1961 and to this union three children were born...Maria Antionette "Toni", Robert Jr. "Bobby", and Lawrence "Larry".
Ramona and Bob relocated from Chicago to California in 1972 where they remained until May, 1983. Bob's job brought the family back to Illinois where her primary job became homemaker. Returning to Illinois allowed them to reconnect with family and friends.
Ramona enjoyed gardening, cooking, traveling, hosting family events, and decorating.
Ramona was preceded in death by her parents; son, Robert, Jr.; sister, Arlene Wilson; and mother-in-law, Lorena Rutherford.
Ramona leaves in God's care her husband; her daughter, Toni (Theo); son, Larry; granddaughter, Akilah Woodford-Sims; sisters, Jacquelyn Stone, Constance James, and Rhoda Moran; and a host of nieces, nephews, cousins and friends.
Visitation for Ramona Sims will be held Tuesday, May 3, 2022 from 10:00 a.m. until the time of funeral services at 12:00 p.m., Noon at the Fred C. Dames Funeral Home, 3200 Black Road, Joliet. Interment will be in Abraham Lincoln National Cemetery.
For more information, please call (815) 741-5500 or visit her Memorial Tribute at www.fredcdames.com