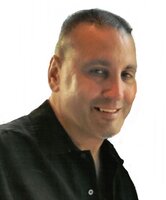 Jerry Dwayne Dover
Jerry Dwayne Dover, age 51, passed away unexpectedly on Friday, June 24, 2022 at Ascension St. Joseph Medical Center in Joliet, IL. Born on October 28, 1970 in Rome, GA to Wayne and Judy Dover, Jerry grew up in Georgia but settled in Plainfield with his family in 2017. Jerry was a veteran of the United States Marine Corps., serving from 1990 until 1994, stationed in Mogadishu, Somalia, and aboard the USS Kitty Hawk in the Persian Gulf. After completing his service, Jerry started his own private investigation firm, Force Process Serving & Investigations.
In 2008, Jerry met Jennifer Malek, and the two were married in 2017.
Jerry was a devoted father. He was incredibly proud of both his children. He was there for every softball game, baseball game, or any event the children were participating in. He was also extremely supportive of all of his and Jennifer's friends, being affectionately nicknamed Uncle Jerry by many, and was referred to as everyone's husband. He enjoyed riding his motorcycle and ATV, no matter how nervous it made his family. But most importantly, he was a loving husband, father, son, nephew, cousin, friend, and will be greatly missed by all.
Jerry is survived by his wife, Jennifer Malek-Dover; his children, Amber Dover and Jacob Dover; his parents, Wayne and Judy Dover; sisters Tabitha Dover and Kristen Dover; father and mother-in-law Robert and Charlene Malek; sister-in-law Christine (Tim) Leach; Aunt Jenny (Greg)Matthews; and numerous cousins, nieces and nephews, and many good friends.
All family and friends are invited to join in a celebration of Jerry's life which will be held on Thursday, June 30, 2022 beginning at 3:00 p.m. and concluding with services at 8:00 p.m. at the Fred C. Dames Funeral Home, Joliet.
The family has requested to live stream the services of their loved one on Thursday, June 30, 2022 at 8:00 p.m. Please click on this link (https://youtu.be/UcJ4E7lHzmo) and follow the instructions to show your support for them at a time when you cannot be physically present, but your thoughts, prayers and connection are.
Interment will follow on Friday morning, July 1, 2022 beginning at the funeral home chapel at 8:30 a.m. and processing to Abraham Lincoln National Cemetery where Jerry will receive full military honors conducted by the United States Marine Corps. Memorials in his name can be made to DAV Disabled American Veterans. For more information, please call 815-741-5500 or visit his memorial Tribute page and leave an online condolence at www.fredcdames.com.