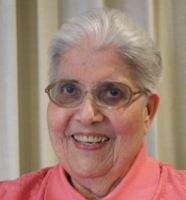 Sister Patricia A. Wagner, OSF
Sister Patricia A. Wagner (Mary Rosalima), OSF, was born on January 10, 1933, the only child of the late Rose (Pahr) and Frank Wagner of Chicago, Illinois. She was born to eternal life in the afternoon of June 28, 2022, at Our Lady of Angels Retirement Home. Sister Patricia is survived by her devoted cousins, classmates in religious life, close friend Sister Mary Ann Clark, numerous friends, students, and many acquaintances.
After attending St. Pascal elementary school in Chicago, Illinois, and graduating from St. Francis Academy (Joliet Catholic Academy), she received a BA from the College of St. Francis (University of St. Francis), Joliet, Illinois, an MA from DePaul University, Chicago, Illinois, and continued post graduate studies at George Peabody College, Nashville, Tennessee. Sister Patricia loved learning and loved teaching. She wrote: "It is my privilege to minister to students and their families at the elementary school and college levels as well as the elderly in a variety of settings."
Sister Patricia began her ministry in education and music at St. Bernard and St. Paul the Apostle, in Joliet, Illinois, in 1952. Over the next seventeen years, she taught elementary school in Illinois and Ohio, along with serving as the parish organist. She served on the faculty of the Education Department at the College of St. Francis (University of St. Francis) for ten years before returning to parish work at Divine Savior in Norridge, Illinois, where she was the Director of Religious Education and the Director of Family Life. Sister was a teacher, administrator, and therapist at Fran Center in Darien, Illinois, and ministered at the Center for Adult Basic Education and Literacy at Joliet Junior College.
As she advanced in years and became physically challenged, she ministered to neighbors and friends at HighPoint Apartments in Romeoville, at Guardian Angel Home and Our Lady of Angels Retirement Community where she resided.
Everyone who knew her was impressed with her joyful spirit and enthusiasm. Besides playing piano, organ, and cello, she loved to crochet. A true Chicagoan, she cheered for the Cubs, Blackhawks, Bulls, and the Bears!
Visitation for Sister Patricia A. Wagner will be held at 8:30 a.m. at Our Lady of Angels Retirement Home on July 7, 2022, followed by the Mass for Christian Burial at 9:00 a.m. Remembrance and Committal will take place at 10:30 a.m. in the Chapel at Resurrection Cemetery, 200 W. Romeo Rd. Romeoville, IL 60446.
If you would like to make a donation in honor of Sister Patricia A. Wagner or another Joliet Franciscan Sister, please send your memorial to the Sisters of St. Francis of Mary Immaculate, 1433 Essington Road, Joliet, IL, 60435.
For more information, please call the Fred C. Dames Funeral Home at 815-741-5500 or visit her Memorial Tribute at www.fredcdames.com where you can share a favorite memory or leave an online condolence.