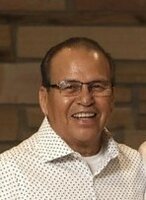 Richard M. Mejia
Richard M. Mejia, age 80, of Minooka passed away Saturday, July 2, 2022 at Ascension St. Joseph Medical Center. He was born in Joliet, the son of the late Vincent and Jesus (Martinez) Mejia. Richard was a longtime resident of Joliet until relocating to Minooka in 2005. He attended Joliet Central High School and received his GED while serving in the Army. Richard was a proud Veteran of the U.S. Army, serving in Vietnam, he was a Combat Infantry-Recon Soldier and recipient of the Purple Heart and numerous citations and medals. He was honorably discharged in 1968 at the rank of Sergeant. He retired from Lucent Technologies (formerly IL Bell/AT&T) in 1999 following over 30 years of service. Richard was a life member and Past Post Commander of Stone City Post VFW #2199. He was also a member of the American Legion Post #1080, Joliet Elks Club #296, and the Joliet Police Auxiliary. He was an avid bowler with the Stone City VFW Friday Night League for over 50 years. A dedicated Chicago Bears and Chicago Cubs fan. He enjoyed watching all sports including his grandchildren's sports and activities and loved to travel. Richard was the pillar of the Mejia Family, loved being surrounded by his family and extended family. He looked forward to joining his brothers every Wednesday Morning for breakfast. Richard was extremely witty and loved to make people laugh.
Surviving are his loving children, Rose Mejia of Joliet, Ricardo Mejia of Joliet, Susan (Jorge) Torres of Minooka, Richard V. (Verenice) Mejia of Joliet, and Rogelio (Christina) of Joliet; his grandchildren, Michael (Jill) Mejia, Sarah (Adrian) Cerillo, Daniela and Sofia Rosales, Faustino, Carlos, Melinda, and Jorge Jr. Torres, and Isaiah, Richard Jr., Ariano, Giovani, Manuel, Adriano, and Nicolas Mejia; his great-grandchildren, Jaxson and Lukas Mejia, Adrian Cerillo Jr. and Xavier Cerillo; siblings, Raymond Mejia, Mary Lou (Juan) Montoya, Guadalupe (Diego) Martinez, Anthony Mejia, Vincent (Josefina) Mejia, Sally (Rafeal) Vieyra, Alfonso (Theresa) Mejia, Juana (Alfredo Villegas) Mejia, Abel (Delia) Mejia, Martina (Terry) Estes, Jesse (Leticia) Mejia, Jose (Donna) Mejia, Carolina Mejia, Jorge Mejia and Jaime (Socorro) Mejia; numerous nieces and nephews.
He was preceded in death by his beloved wife, Salud "Lula" Mejia (April 17, 2020); his parents; stepmother, Maria (Zamudio) Mejia; his dearest brother, Michael (Jessie) Mejia, Sr.; sister-in-law, Gloria Mejia and his fellow comrades of the Vietnam War.
Visitation for Richard Mejia will be held Tuesday, July 5, 2022 at the Fred C. Dames Funeral Home, 3200 Black Road, Joliet from 2-8 p.m. Funeral services will be Wednesday, July 6, 2022 at 9:15 a.m. from the funeral home to St. Joseph Catholic Church, 416 N. Chicago St. Joliet, for Mass of Christian Burial at 10:00 a.m. Interment will follow with full military honors at Abraham Lincoln National Cemetery. For more information, please call (815) 741-5500 or you may visit his Memorial Tribute at www.fredcdames.com where you can share a favorite memory or leave an online condolence.