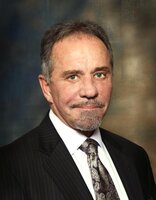 Dr. Robert Dietz Tetik
Dr. Robert "Bob" Dietz Tetik, father, grandfather, brother, son, loving partner, and loyal friend, passed away at the age of 77, on Monday, July 11, 2022, after a long battle with cancer.
Bob was born on February 26, 1945, to Robert and Rose (Kahout) Tetik. He received his BS degree from Northwestern University and his Doctor of Medicine from University of Illinois Medical School. After college Bob did his residency at U of I Hospitals, receiving the Fremont J. Chandler Award for best Orthopedic Resident at Rush-Presbyterian St. Luke's Hospital as well as the Elvin A. Burkheiser Award for best Research in Orthopedic surgery. From there he went on to a lengthy career of helping others. After residency he quickly became a leader in the Emergency Medicine field as he was the Director of Emergency Services at both Grant Hospital in Chicago and Ingalls Memorial Hospital in Harvey. He also served as Chairman of the Department of Emergency Medicine at Michael Reese Hospital, sat on the Practice Management and Disaster Committees, and served on the Board of Directors at Ingalls. With a passion for the field of medicine still going strong in the 1980's, and overlapping these accomplishments, he also began an Emergency Medicine management company to help staff inner city hospitals. This expanded to a billing company attuned to serve the unique needs of the Emergency Medicine community. From there his career continued to diversify, founding a malpractice captive insurance company to help decrease costs for physicians and other Emergency Medicine groups. This evolved into creation of, yet another company founded to provide professional liability defense coverage to provide practicing attorney's medical insights. Bob continued to take care of even more when he developed an integrated provider delivery system for treatment of occupational hazards and workers' compensation injuries. He practiced Emergency Medicine for 22 years before retiring from clinical practice in 1997. After which he became Medical Director of Newsome Home Health and Sunny Hill Home Health, and in kindness to those homebound, was also a visiting home doctor until retirement May 1, 2022. Lifelong dedication to others was how he lived life. Not to be forgotten in his amazing career journey, he also balanced in serving in the National Guard!
A great teacher and helper to everyone, Bob's wonderful blend of humor and sarcasm, and loving nature will certainly be missed by all. In all the years we all shared with Dad, aka Bob and Dr. T, he guided us, comforted us, encouraged us, supported us, and never gave up on anyone. He showed his children what it is to be a good person and parent. He loved so very many in life, and we loved him. He taught us all how to keep moving forward...
Bob is survived by his children, Taylor Kitchin, R. Cole Tetik, William DeMille, Jonathan Tetik, Drew Tetik and Carmen Tetik. He is also survived by his sister, Charmaine Ekroth; as well as his significant other and special friend, Angie Trickel. He was proud "Gramps" and "Grandpa T" to his five beloved grandchildren, Blake Birdwell, Carson Tetik, Jackie DeMille, William DeMille III, and AJ Blatchford. Many nieces and nephews also survive.
His passing comes with immense sorrow and grief for me, for my brothers, and for my sister and aunt, as well as many others. He was a great fire who burned bright, and we all lived in his light and warmth for a long time. We know that his wisdom, kind heart and incredible strength will live on in each of us. The days and years to come will not be the same without him as we will miss him terribly. But in this loss, and in this sorrow, we can take comfort in this: Robert D. Tetik was a Hero to all he healed, uplifted, guided, and comforted, to so many who have crossed his path in life, and he will forever be in our hearts.
Visitation for Dr. Robert Dietz Tetik will be held on Saturday, July 16, 2022, at the Fred C. Dames at 3200 Black at Essington Roads, Joliet, IL, from 1:00 p.m. until the time of Funeral Service at 3:00 p.m. As it was his request, cremation rites will be accorded following the services.
The family has requested to live stream the services of their loved one on Saturday, July 16, 2022 at 3:00 p.m. Please click on this link (https://youtu.be/GVXRztsx8rM) and follow the instructions to show your support for them at a time when you cannot be physically present, but your thoughts, prayers and connection are.
In lieu of flowers, memorials in his name to Stephen Siller Tunnel to Towers Foundation, 2361 Hylan Blvd., Staten Island, NY 10306, would be appreciated.
For more information please call 815-741-5500 or visit his Memorial Tribute at www.fredcdames.com where you can share a favorite memory or leave an online condolence.