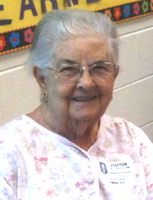 Josephine T. "Dolly" Allegretti
Age 92, passed away peacefully on Monday, July 18, 2022 at the Lightways Hospice Home in Joliet. She was born in Elmhurst on July 27, 1929 to the late August and Rose Guardalabene. Dolly met her future husband, James Allegretti, who worked at her father's cheese factory, and the two were married on October 1, 1955 at St. Alexander's Catholic Church in Villa Park. The two settled in Oak Park and raised their family there before moving to Joliet over 30 years ago.
Dolly made numerous friends throughout the years while working as a beautician and a waitress, but her number one roll was as matriarch to the family and the caring and upbringing of her four children and grandchildren.
She is survived by her daughter, Theresa (Frank) Reis; three sons, Gregory (Kathryn) Allegretti, Mark (Carol) Allegretti, and David (Susan) Allegretti; grandchildren, Simone and Angela Reis and Joseph (Bryanna), Erin and Megan (Neil) Allegretti; her sister, Rose (the late Leonard) Hughes; and her brother, Joseph (Mary) Guardalabene.
She is preceded by her beloved husband of 61 years, James Edward Allegretti; her parents; and her brothers Marino, Nicholas, and Francis Guardalabene.
All family and friends are invited to join in a celebration of Dolly's life on what would have been her 93rd birthday, Wednesday, July 27, 2022 at the Fred C. Dames Funeral Home, Joliet from 4-8 p.m. Funeral to follow on Thursday, July 28, 2022 leaving from the funeral home chapel at 9:15 a.m. and processing to the Cathedral of St. Raymond for Mass of Christian Burial at 10:00 a.m. Entombment to follow at Queen of Heaven Cemetery Mausoleum, Hillside.
In lieu of flowers, memorials in her name to the American Macular Degeneration Foundation or Lightways Hospice would be appreciated.
For more information, please call 815-741-5500 or visit her Memorial Tribute page at www.fredcdames.com