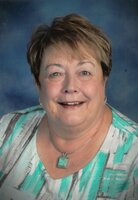 Kathleen K. Kemp
Kathleen M. Kemp
(nee McGovern)
Kathleen M. Kemp, of Channahon, passed away peacefully at the age of 76, on Tuesday, July 26, 2022, at Lightways Hospice Home, surrounded by the love of her family. Kathleen was born on June 27, 1946, the only child of the late Arthur and Marion (nee Becker) McGovern. Born and raised in St. Louis, MO, she was a graduate of Clayton High School, class of 1964. Kathleen has been a resident of Channahon for the past 13 years and attended Messiah Lutheran Church with her family.
Kathleen was a devoted wife, mother, and grandmother. In her free time she enjoyed sewing, tending to her flowers in the garden, and always enjoyed creating new recipes for her family to enjoy. She will be remembered fondly for her strength, perseverance and grace
Kathleen is survived by her loving husband of 54 years, Richard L. Kemp; her daughter, Kristen Ann (Tom) Michalski; and two granddaughters, Abygail and Tessa Michalski.
She is preceded by her son, Jason Richard Kemp; her parents; and her maternal grandmother, Maude Ester Becker.
Funeral Services will be held privately by the family at a later date. Inurnment will take place at Valhalla Cemetery in St. Louis, MO.
In lieu of flowers, memorials to the charity of your choice in her name would be appreciated.
For more information, please call the Fred C. Dames Funeral Home at 815-741-5500 or visit her Memorial Tribute at www.fredcdames.com where you can share a favorite memory or leave an online condolence.