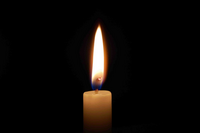 Eulalia A. "Laly" Cyr
Eulalia A. Cyr, age 87, of Channahon, IL, passed away Monday, August 1, 2022 at her home surrounded by her family. She was born November 3, 1934 in Portland, ME, to the late Helen A. (Maguire) and John M. Mulkern.
She is survived by her beloved husband of 67 years, Phillip L. Cyr; loving children, Claudia (Charles) Wensel, Gregory (Mary) Cyr, and John (Cindy) Cyr; adoring grandchildren, Lauren (Dex) Evans and Ryan Wensel, Kelsey Cyr, Nicholas Cyr, Kyle Cyr, and Amy Cyr. Many nieces, nephews, and dear friends also survive.
She is preceded in death by her parents; brothers, Edward, Robert, William and Richard Mulkern; and her sisters, Eileen Jung and Mary Moreshead.
Eulalia was an administrative assistant for the Plumber's Pension Fund Local 130 in Chicago for over 20 years. She was a devoted member of St. Mary's Catholic Church in Minooka, where she served as a Eucharistic Minister. She also volunteered at the Daybreak Shelter in Joliet.
Lovingly known as "Laly" to many, she will be remembered fondly as a loving wife, mother, grandmother and friend who was truly devoted to her family.
In lieu of flowers, memorial contributions may be made to Poor Clare Nuns Annunciation Monastery, 6200 E Minooka Rd., Minooka, IL 60447 or Lightways Hospice, 250 Water Stone Circle, Joliet, IL 60431.
All friends and relatives are invited to gather Monday, August 8, 2022 from 9:30 a.m. until a Memorial Mass begins at 10:30 a.m. at St. Mary's Catholic Church, 303 W. St. Mary's Street, Minooka, IL 60447. Interment will be private.
For more information, please call (815) 741-5500 or visit her Memorial Tribute at www.fredcdames.com where you can share a favorite memory or leave a condolence.