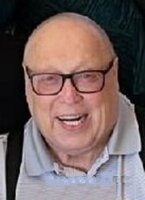 Peter Mysza
Peter Mysza
Peter Mysza, of Plainfield, IL, passed away peacefully, on August 1, 2022, surrounded by his loving family. Peter was born in Chicago, IL, on February 27, 1942, to the late Emil and Beverly (nee Reitico) Mysza. Peter was born in the Our Lady of Sorrow Basilica Parish but then moved and grew up in Burbank, IL. He was a graduate of Reavis High School, where he was a two sport all-area athlete as a football player and baseball catcher. After high school, Peter answered the call of duty and proudly served in the US Air Force during the Vietnam War. He was stationed in Altus Air Force Base, OK and Ramey Air Force Base, Puerto Rico. Peter was a proud retired member of Teamsters Local 399 Operating Engineers. Peter also worked as a Meat Cutter in Chicago for many years.
Peter loved family visits, food and music. He also loved to dance and enjoyed watching sports. He had a big personality and a unique sense of humor and was not shy. He was always laughing, dancing, and enjoyed cuisine from different cultures. Peter will be missed by his family and friends.
Peter is survived by six children, Dawn (Scott) Johnson, Sheri (John) Pacewic, Leanne (Vincent) Adamo, Laura Zwartz, Julie (Tom) Cleary and Pete (Mary) Mysza; 11 grandchildren, Kevin Johnson, Rebecca, Mykayla, Brianna, and John Pacewic, Dominic Adamo, Blake Zwartz and Adrianna Mysza, Katelyn (Brandon) Slack, and Amanda Cleary; one great-grandchild, Aidan Stack; his nieces and nephews, Paul and his wife Rachel; James and wife Kelly; and Stephen and his wife Beth; great nieces and nephews, Elizabeth Mysza, Vincent Mysza, Adam Mysza, Jacob Mysza, Simon Mysza Alexandra Mysza and Joseph Mysza; and his companion, Mattie Antee.
He is preceded by his wife, Carol Ann (nee Emmershy) Mysza; granddaughter, Gabriella Adamo; his parents; and his twin brother, Paul Mysza of Roswell, NM.
A Memorial Gathering for Peter Mysza will be held on Saturday, August 6, 2022, from 9:00 a.m. until the time of service at 11:00 a.m., at the Fred C. Dames Funeral Home, 3200 Black Rd. (at Essington Rd.), Joliet, IL. Family and friends are invited to meet 12:45 p.m., at Resurrection Cemetery, 7201 Archer Rd, Justice, IL for inurnment. Full military honors will be held under the auspices of the United States Air Force. As it was Peter's wish cremation rites have been accorded.
For more information, please call 815-741-5500 or visit his Memorial Tribute at www.fredcdames.com where you can share a favorite memory or leave an online condolence.