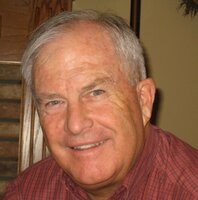 Christopher Jarl Ward
After a long journey with Alzheimer's disease, Chris passed away peacefully surrounded by the devoted love of his family, and under the thoughtful attention of personal caregivers as well as the services of Lightways Hospice.
Born at Ft. Benning, GA, Chris grew up and attended school in Joliet, first at St. Patrick's Grade School, then at Joliet Catholic High School, where he met lifelong friends and excelled in both academics and athletics. He continued his education at St. Benedict College in Atchison, KS, and later at Northern Illinois University where he earned a doctorate in education.
He met the love of his life, his wife Katie, in Atchison but it was in the Joliet area that he lived, raised his family and worked his whole life.
From his first days of teaching history, and coaching, to working as a high school counselor, to school administrative positions as principal and later high school superintendent. Chris dedicated his life to the education of others. He completely enjoyed each school building or school district where he worked: Joliet Catholic, Bolingbrook High, Humphrey Middle School, and ultimately, Lockport Township High School District from which he retired in 2006.
Even after retiring, he found a way to serve education when he was honored with an appointment to the Illinois State School Board of Education and also worked actively as a board member at the University of St. Francis in Joliet. His never-ending sense of humor, natural leadership qualities, as well as his love of people was apparent to all with whom he worked; teachers, staff, parents, board members, transportation personnel, building and grounds staff, kitchen staff and community organization leaders all were the recipients of his integrity and attention.
Chris is preceded in death by his mother Maxine (Sadler) Ward, his father Christopher B. Ward, and his brother Michael Ward.
He is survived by his wife Katie, and four children, (each one his favorite) Christopher (Polly), Tim (Nicole), Sarah (Tom) Igric and Meg (Nick) Galle, and is also survived by the joys of his life – his thirteen grandchildren; Maggie, Mick, PJ, Annie, Ellie, Patrick, Molly, Joey, Jack, Gus, Grace, Lou and Maxine. Also surviving are his brother, Patrick B. Ward; his cousins, Brenda Finucane and Jimmy Finucane, as well as numerous nieces and nephews.
A teacher to the end, he never missed an opportunity to impart life's most important lesson - to always take care of each other. And one last thing, Chris was noted for his great sense of humor so take another lesson from him, laugh and be happy.
In lieu of flowers, mourners are asked to make a donation to UsAgainstAlzheimers, PO Box 34565, Washington, DC 20043, www.usagainstalzheimers.org or to Lightways Hospice , 250 Water Stone Circle, Joliet, IL 60431, www.lightways.org
Visitation for Christopher Jarl Ward will be Monday, September 12, 2022 at the Fred C. Dames Funeral Home, 3200 Black Rd., Joliet, from 4:00 – 8:00 p.m. All friends and family are invited back on Tuesday, September 13, 2022 at 9:00 a.m. from the funeral home to St. Patrick Catholic Church, 710 W. Marion Street, Joliet, for a Mass of Christian Burial at 10:00 a.m. Interment will follow at Woodlawn Memorial Park.
For more information, please call 815-741-5500 or visit his Memorial Tribute page at www.fredcdames.com where you can share a favorite memory or leave an online condolence.