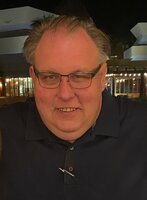 Donald E. "Duke" Williams
Age 52, of Joliet, passed away unexpectedly on Wednesday, October 5, 2022. He was born in Joliet, the son of Bob and the late Mary (Negoski) Williams and was a lifelong resident. Don was a graduate of Holy Family Grade School, Joliet West High School, Joliet Junior College and Lewis University. Don was an entrepreneur and the co-owner of Premier Catering (formerly, Duke's Catering) and Syl's Chophouse. Don worked tiressly for the benefit of his family. He was a lifelong member of the Moran A.C. as well as several other local clubs. Don was a faithful parishioner of the Cathedral of St. Raymond and founding member of the Joliet Region Food and Beverage Association. Duke was bigger than life. He loved all his girls, family, loyal staff, customers and the community of Joliet.
Duke was passionate about serving food and drinks to everyone. He was always up for a cocktail and conversation until all hours of the night/morning.
Don is survived by his loving wife of 20 years, Maura (Quinn) Williams of Joliet; his two daughters, Abby and Maggie Williams; his father, Bob (Bobbie) Williams; his brother, Dave (Sue) Williams; his sister, Bobbie (Doug) Kristofer, all of Joliet; an abundance of aunts, uncles, nieces, nephews and cousins, including special Aunt, Claudette Nemanich. Many brothers and sisters-in-law and dear friends also survive.
He was preceded in death by his mother, Mary.
Visitation for Donald E. Williams will be Sunday, October 9, 2022 at the Fred C. Dames Funeral Home, 3200 Black Rd., Joliet, from 2:00-6:00 p.m. Funeral Services will be Monday, October 10, 2022, 10:30 a.m. at the funeral home chapel to the Cathedral of St. Raymond Nonnatus, where Mass of Christian Burial will be celebrated at 11:30 a.m. Interment will follow at Woodlawn Memorial Park.
In lieu of flowers, memorials in his name to further his daughters' education would be appreciated.
For more information, please call 815-741-5500 or visit his Memorial Tribute at www.fredcdames.com where you can share a favorite memory or leave an online condolence.