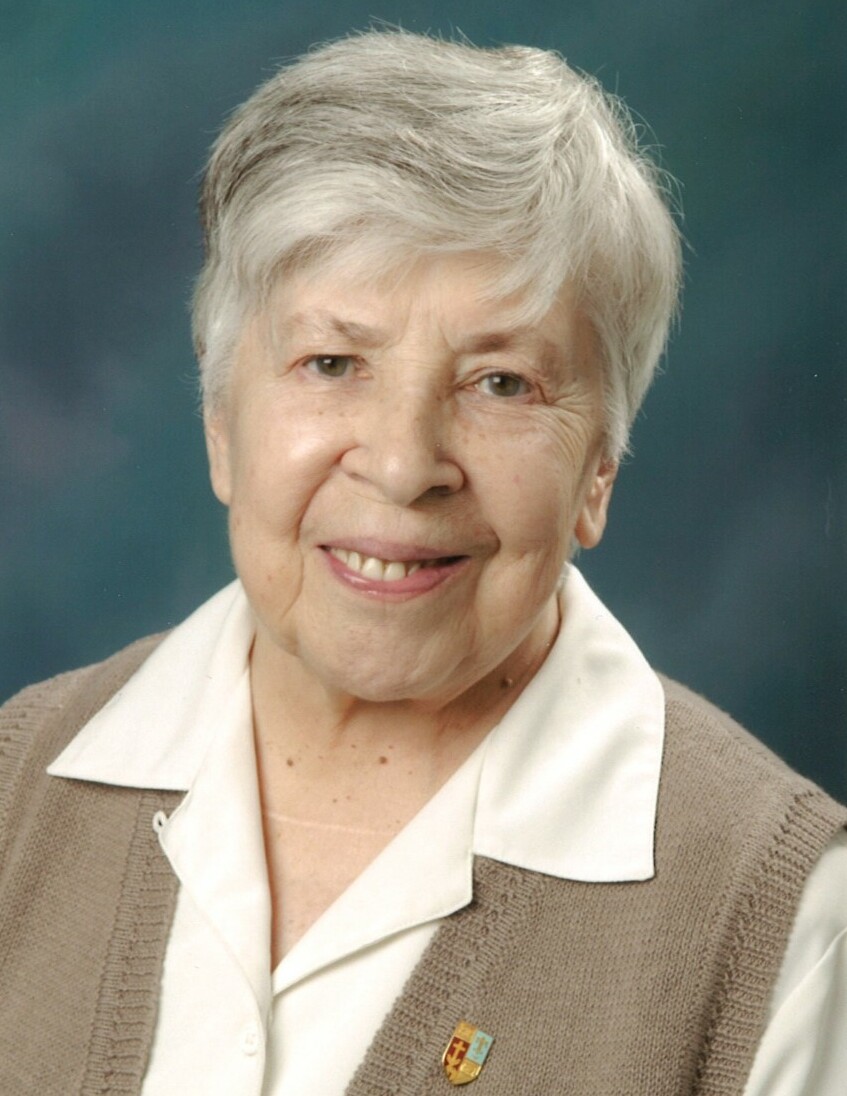 Sister M. Carlene Howell, OSF
Sister M. Carlene Howell, OSF, was born in Chicago, Illinois, on June 12, 1934, to the late Frances (Fisher) and Gilbert Howell. She was welcomed into eternal life on November 5, 2022, at Our Lady of Angels Retirement Home. Sister Carlene made her Perpetual Profession in 1957 and was dedicated to the mission of the Joliet Franciscan Sisters for over 70 years. She is survived by her devoted brother, Durk Howell, of Santa Margarita, California, her sister, June Micheletto, of Chicago, Illinois, many cousins, nieces, nephews, and friends.
After receiving her BA at the University of St. Francis (College of St. Francis) in Joliet, Illinois, Sister Carlene earned her MA in English at Ohio State University in Columbus, Ohio, and her MA in Religious Studies at St. Louis University in St. Louis, Missouri. She loved learning and teaching. A true scholar, she continued post-graduate studies at the University of Minnesota, University of Detroit, University of Southern California, DePaul University and St. Louis University.
Sister Carlene began her education career as a primary teacher at St. Francis Xavier School in Chicago, Illinois, and ended her teaching career at the Cathedral of St. Raymond School in Joliet, Illinois. She taught at Bishop Ready High School in Columbus, Ohio, and at the University of St. Francis. There she was an Assistant Professor in the English Department for 13 years, and the Chair of the English Department for several years. For six years she took on the responsibility of Pastoral Associate at St. Victor Parish in Calumet City, Illinois. Then she served the Congregation as Director for the Office of Franciscan Futures (Vocations) for the Congregation. Sister Carlene was an outstanding proofreader, writer, receptionist and minister of prayer and presence.
Sister Carlene had a gentle and welcoming presence. She was enthusiastic, loved to travel, enjoyed reading and had many and various hobbies. A peak experience for her was embarking on a 10-week "literary tour" in New England and a visit to London.
Visitation for Sister Carlene Howell will be held at 8:30 am at Our Lady of Angels Retirement Home on November 10, 2022, followed by the Mass for Christian Burial at 9:00 am. Remembrance and Committal will take place at 10:30 am in the Chapel at Resurrection Cemetery, 200 W. Romeo Rd. Romeoville, IL 60446. All are invited to attend.
If you would like to make a donation in honor of Sister Carlene or another Joliet Franciscan Sister, please send your memorial to the Sisters of St. Francis of Mary Immaculate, 1433 Essington Road, Joliet, IL, 60435.