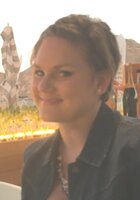 Chiara Robinette
Chiara Elise Robinette
Chiara Elise Robinette, age 36, passed away peacefully on Monday, November 14, 2022 surrounded by family. Born September 17, 1986 in Mesa, AZ to David R. Pearling, Jr. and Megan Pearling (Hicks), Chiara grew up in the Joliet area. On April 26, 2013, Chiara married Richard Robinette, II, they had two sons, Richard III and Henry, residing in Minooka.
A member of the Village Christian Church in Minooka, she was a devoted follower of Jesus. Chiara loved being a mom to her children and pets. She enjoyed culinary arts and making meals for loved ones, spending time with family, and visits to the lake with her boys. She also enjoyed gardening, crochet, crafting, and making her house a home. Always stylish and put together, Chiara enjoyed beauty and fashion.
Her accomplishments include being crowned a Missionettes Honor Star, fundraising for Bright Pink, authoring and maintaining the page Beauty in Beast Mode, volunteer work with New Start Dog Rescue, and successfully running several races including half marathons. Professionally, she was an accomplished saleswoman and manager.
Chiara is survived by her husband, Rich Robinette, II; their two young sons, Richard, III and Henry; her mother, Megan (Tony) Hicks; her father, David (Joan) Pearling, Jr.; her mother and father-in-law, Val and Rich Robinette; her two sisters, Alaina and Carissa Pearling; sisters-in-law Lisa (Don) Johnson, Renee (Craig) Ebel, and Sandy (Jim) Streu; and numerous nieces, nephews and many good friends.
All friends and family are invited to join in a celebration of Chiara's life to be held on Friday, November 18, 2022 at 7:00 p.m. at the Fred C. Dames Funeral Home, Joliet. Memorial visitation from 4:00 p.m. until time of services. In lieu of flowers, memorials in her name can be made to Pink Heals Joliet Area Chapter. For more information, please call 815-741-5500, or to leave an online condolence, visit www.fredcdames.com