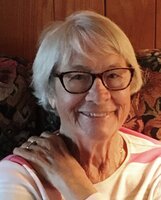 Donna Jean Hudak
Donna Jean Hudak, age 89, of Joliet, passed away peacefully, Wednesday, November 16, 2022 at Lightways Hospice.
Born March 29, 1933 in Joliet, she was a graduate of Joliet Township High School and Joliet Junior College. She was a homemaker while raising her family, and then worked for several years for the Will County Clerk of the Circuit Court.
An expert at whiling away the day with a good book, reading was a passion of hers that she shared with her much loved sister-in-law, Nancy Hudak. They considered themselves real sisters. A creative spirit early on, she was drawn to the artwork of local watercolor artist Jack Hudak, and that's how she met her husband, Fran, at one of Jack's art shows. Later in life she took up watercolor and enjoyed getting together weekly with fellow painters at the Pilcher Park Greenhouse. She loved nature and spent a lot of time in beautiful places with her children from Maine to Michigan to the farthest reaches of Florida. Her oldest dearest friend, Joan Paul, has provided amazing support, as well as Linda Pearson and Sue Petrek, angels in their own right.
Surviving are her children, Milissa (Carl Gilley) Hudak of Key West, FL and Michael Hudak of Montague, MI; two grandsons, Christopher Hudak and Michael Hudak; one sister, Carolyn (the late Chuck) Sula; and a nephew, Gene Kibbey.
She was preceded in death by her husband, Francis Hudak (1994); a son, Peter Hudak (2007); a granddaughter, Mimi; her parents, Thora and August Brocker; one sister, Roberta Kapinus; one brother, Augie Brocker; and a brother-in-law, John V. Hudak.
Funeral services for Donna Jean Hudak will be held Friday, November 18, 2022 at 11:30 a.m., at First Presbyterian Church, 805 Western Avenue, Joliet, where visitation will begin at 10:00 a.m. Interment will be in Resurrection Cemetery, Romeoville.
In lieu of flowers, memorials in her name to Lightways Hospice, 250 Water Stone Circle, Joliet, IL 60431 (www.lightways.org) or Paralyzed Veterans of America, P.O. Box 758542, Topeka, KS 66675-8542 (www.pva.org) would be appreciated.
Fred C. Dames Funeral Home is in charge of arrangements. For more information, please call (815) 741-5500 or visit her Memorial Tribute at www.fredcdames.com