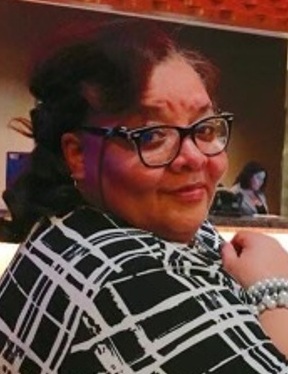 Alfreda Lott
Alfreda Lott
Alfreda Lott, of Joliet, passed away at the age of 60, on Wednesday November 16, 2022, at St. Joseph Medical Center. Alfreda was born in Duckhill, Mississippi, on October 18, 1962, the daughter of the late Albert Lee and Eddie Mae (Fox) Lott.
Alfreda was a generous soul who always instinctively knew how to give of herself to provide for others. This was obvious in her professional career choices, as she worked for many years in the nursing field. She spent a large portion of her career at St. Joseph Hospital in Joliet, but more recently worked for the PARC at Joliet. In her personal life, she maintained that same commitment to providing for others. Whether it be the personal sacrifices that she made to always provide the best possible care to her five children, or the love and support that she willingly gave to her dear sister Diane and really, to all of her family. Alfreda loved to watch movies and read in her free time and will always be remembered by her loved ones as quick-witted and intelligent, which she often attributed to her status as a Libra in the Zodiac calendar. Even the finality of her last Earthly breath could not stop her generosity, as her family has been assured that her final act of compassion of donating her organs through Gift of Hope will help to save and improve the lives of many others. Our world is a little less bright without her light, but will always be better for the imprint that she has left upon it.
Alfreda is survived by her five children, Louis (Lauren) Lott, Sherina Lott, Anthony Lott, Shawanda Lott, and Sharisa Lott; her bonus daughter, Timwannia Lewis; eleven grandchildren, Denzel, Jamar, Tracey, Khari, Darius, Dareante, Jermon, Jimmy, Niara, Michael, and London; siblings, James (Gwen) and Diane Lott; and her nieces and nephews, Cabina (Albert) Barnett, Ameer Lott, and Ricky Lott Barefield.
She is preceded by her parents; siblings, Albert Lee Lott, Jr., David D. Lott, Shirley Ann Lott, Michael Lott, and Ricky Lott; and her nephew, Gerald Lindsay Jr.
Visitation for Alfreda Lott will be held at the Fred C. Dames Funeral Home, 3200 Black Rd. (at Essington Rd.), Joliet, IL on Wednesday, November 23, 2022, from 3:00 p.m. until the time of Funeral Service at 7:00 p.m. As it was her request, cremation rites will be accorded following the services.
For more information, please call 815-741-5500 or visit her Memorial Tribute page at www.fredcdames.com where you can share a favorite memory or leave an online condolence.