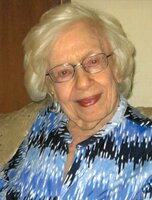 Lois C. Yakich
Lois C. Yakich
(nee Nussbaum)
Lois Claire Yakich age 96, of Joliet, passed away peacefully, Thursday November 17, 2022 at home. Lois was born August 19, 1926 in Joliet, daughter of the late Leonard and Clara (Hartung) Nussbaum. A lifelong resident, she attended St. John the Baptist Catholic School, Joliet Township High School and Metropolitan Business School. She was previously employed by the Joliet Navy Yard, Standard Oil Company and ROW Window Company.
Lois married Edward Yakich at St. John the Baptist Catholic Church on February 9, 1957. She was a member of St. Paul the Apostle Catholic Church for over 60 years and VFW 367 Auxiliary.
Lois was a devoted wife and mother and enjoyed her time with her family and special get-togethers with relatives including the family reunion. A lifelong Cubs fan, she finally enjoyed them winning the 2016 World Series after years of heartbreak.
Lois is survived by her two sons, Robert and William Yakich, sisters-in-law, Carol (Stanley) Demsky, Shirley and Gloria Yakich; and brother-in-law, Andrew "Mick" Mikuska. Numerous nieces, nephews and cousins also survive.
She is preceded in death by her husband, Edward Yakich; her parents; brothers-in-law, John (Adele), Bernard (Joan), James (Margaret), Richard and Raymond Yakich; and sisters-in-law, Frances Yakich, Dorothy (Cyril) Gura and Helen Mikuska.
Special thanks to the people of Home Instead and to caregivers Gifty and Veronica, also Aim Home Health Nurse Paulina and Lightways Hospice for their care of Lois.
In lieu of flowers, memorials may be made in her name to St. Paul the Apostle Catholic Church, 130 Woodlawn Ave., Joliet, IL 60435.
Funeral Service for Lois C. Yakich will be held at 9:00 a.m., on Tuesday, November 22, 2022, at the Fred C. Dames Funeral Home, 3200 Black Rd. (at Essington Rd.), Joliet, IL, to St. Paul the Apostle Catholic Church ,where a Mass of Christian Burial will be celebrated at 10:00 a.m. Entombment will follow at Resurrection Mausoleum in Romeoville. Visitation will be held on Monday at the funeral home from 3:00 to 7:00 p.m.