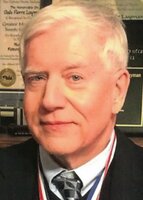 Dale P. Layman
Dale P. Layman, Ph.D., age 74, of Joliet, passed away peacefully, Thursday, November 24, 2022 at home, with his loving family by his side.
Born July 3, 1948 in Niles, MI, he was the son of the late Pierre and Delphine (Lenke) Layman.
Dr. Layman received his Bachelor of Science and Master of Science degrees from the University of Michigan, his Education Specialist degree from Ball State, and his Doctorate in Health and Safety Studies from the University of Illinois, Urbana-Champaign. For 32 years, he served as a Professor of Human Anatomy and Physiology, as well as Medical Terminology, at Joliet Junior College, retiring in 2007. He was also Founder and President of RoboWatch, an accomplished author of textbooks used in the teaching profession, and was listed in numerous Who's Who publications.
Dale was a devoted and loving husband and father whose story includes more than the accomplishments and landmarks of his life. An avid outdoorsman, he had a love for nature which he shared with and instilled in his children. His active lifestyle included jogging, swimming, biking and fishing. Dale and Kathleen also enjoyed the many opportunities to travel they shared. He also loved eating ribs, the color blue, and Michigan football.
He is survived by his beloved wife of 52 years, Kathleen A. (Jackowiak) Layman of Joliet; and four loving children, Andrew (Michael Lasecki) Layman, Alexis Layman, and Allison (Robert) Gulas, all of Chicago, and Amanda Layman of Wilmette. He was also the brother of Cathy Layman of Bay City, MI and Dean Layman of South Bend, IN; brother-in-law to Theodore (Cynthia) Jackowiak of Niles, MI; and uncle to Ted Jackowiak, Hannah Jackowiak and Peter Layman. He is also survived by numerous cousins.
A Mass of Christian Burial for Dr. Dale Layman will be held Tuesday, November 29, 2022 at 11:00 a.m., at St. Paul the Apostle Catholic Church, 18 Woodlawn Avenue, Joliet, where Visitation will begin at 10:00 a.m. Interment will be in Risen Lord Cemetery in Oswego.
In lieu of flowers, memorials in his name to the National Pancreatic Cancer Foundation (www.npcf.us) of St. Paul the Apostle Catholic Church would be appreciated.
Fred C. Dames Funeral Home is in charge of arrangements. For more information, please call (815) 741-5500 or visit his Memorial Tribute at www.fredcdames.com where you may share a memory or leave an online condolence.