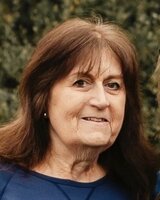 Sandra K. Ceja
Sandra K. Ceja, age 75, of Joliet, passed away peacefully, Sunday, November 27, 2022 at home, with her loving family by her side.
Born January 4, 1947 in Du Quoin, IL, she was the daughter of the late Floyd W. and Virginia Ruth (Runck) Reid, and was a graduate of Proviso East High School with the Class of 1965. For several years she worked as a Manager for First National Bank before beginning her most rewarding career as a mother.
Sandra was a loving and devoted mother, grandmother and great-grandmother who enjoyed a good time whether that was going out dancing, shopping, or attending parties, or staying in talking on the phone with family and friends, playing card games with her grandkids, or watching TV and following her favorite show, "Days of Our Lives."
Surviving are her beloved daughter, Samantha (John) Tilley of Joliet; three adoring granddaughters, Desiree (Timothy) Alsip of Minooka, Emily (Mason) Tilley of Joliet, and Sallee Tilley of Joliet; five precious great-grandchildren, Zaire, Kai, Amir, Geoanna and Logan; her dear brother, Jeffrey Reid of Du Quoin, IL; and many loving nieces and nephews.
She was preceded in death by her beloved husband, CPD Detective Salvatore C. Ceja. Following his tragic death in 1977, her courage and determination as a single mother became an example to others. Over the years, she came to be known as Mom, Gram and GG to many others beside her family. She was dearly loved by many and will never be forgotten.
Visitation for Sandra Ceja will be held Thursday, December 1, 2022 from 3:00 to 8:00 p.m., at the Fred C. Dames Funeral Home, 3200 Black Road, Joliet. Funeral services will be held Friday, December 2, 2022 at 10:00 a.m., at the funeral home. Interment will be in Mt. Carmel Cemetery, Hillside.
In lieu of flowers, memorials to the family would be greatly appreciated.
For more information please call (815) 741-5500 or visit her Memorial Tribute at www.fredcdames.com