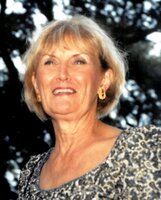 Rita R. Ruddy
Rita R. Ruddy, age 84, passed away unexpectedly on Tuesday, November 29, 2022 at Ascension St. Joseph Medical Center in Joliet.
Rita is survived by her four children, Beth (Larry) Ley, Erin (Eric) Speas, Amy (Jeff) Moore, and Greg (Melinda Gunn) Ruddy; her grandchildren, Caroline and Erin Ley, Jacob, Kyle, and Elaina Speas, Franchesca and Olivia Moore, and Hank and Ada Ruddy; her sisters, Janet (the late Richard) Trizna and Mary (the late Leon) Young; and numerous nieces, nephews and cousins, as well as her loyal and devoted companion Cubbie who never left her side.
She is preceded in death by her beloved husband of 55 years, Paul R. Ruddy (2017); and her parents, Raymond and Mary Rub and her granddaughter, Lauren Ley.
Rita grew up on a farm in Minooka and attended the Jones Elementary School, a one-room schoolhouse. She graduated from St. Francis Academy in 1956 and the College of St. Francis in 1960 with a degree in Elementary Education. She worked for the Joliet Public Schools District 86 where she taught hundreds of kindergarten children. She had the patience of a saint and loved teaching young children.
Rita was a devoted wife, mother and grandmother. Her greatest love in life was her family. She instilled the values of honesty and hard work. She loved to laugh and have fun and passed down her love of Christmas to all of her family.
Friends and family are invited to join in a celebration of Rita's life to be held on Friday, December 2, 2022 from 4-7 p.m. at the Fred C. Dames Funeral Home, 3200 Black at Essington Rds., Joliet. Private family funeral services to be held and Rita will be laid to rest next to her husband at Mt. Olivet Cemetery, Joliet. In lieu of flowers, memorials in Rita's name can be made to Lightways Hospice or the Paul Ruddy All Sports Legacy Endowed Scholarship at Lewis University. For more information, please call 815-741-5500 or to leave an online condolence or share a favorite memory, visit her Memorial Tribute Page at www.fredcdames.com.