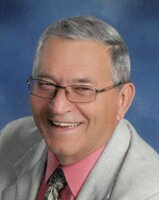 Thomas Michael McGann
Thomas McGann, age 80, lifelong resident of Joliet passed away peacefully in his home surrounded by his loving family on November 30, 2022. Born to Thomas F McGann and Clara (nee Zuchowski) McGann, Thomas was a proud graduate of Joliet Catholic Academy Class of 1960.
He is preceded in death by his parents, his son, James Patrick McGann in infancy, and his beloved son Kevin Michael McGann, as well as his son-in-law Chief Robert Scholtes, and his brothers, Terry McGann and Gerald and Patricia McGann.
Thomas is survived by his faithfully devoted wife of 62 years, Theodora (Teddy) McGann (nee Hansen), his children Michele Scholtes (the late Chief Robert Scholtes), Thomas and Madelyn McGann, Kim McGann (the late Kevin McGann), and Steven and Rita McGann. His grandchildren Lynn (Donrasoul) Berry, Brandon (Jessica) Scholtes, Megan, and Matthew Scholtes, Thomas (Meghan) McGann and Lucas McGann, Emily McGann, Jennifer (Chris) Amlin, Allison (Ryan) Koltes, Steve (Johanna) McGann and Katherine (Christopher) Gilmer; and five sisters, Elaine (Michael) Brukwicki of Monroe, WI, Marsha (Steven M.D.) Driggers of SC, Mary Michaels of Ottawa, Carol Jean McGann of Palos and Jane (Hal) Choisser of Channahon; and sister-in-laws, Faith Salis of IN and Debbie Mcgann of MI; numerous neices, nephews and godchildren. Thomas and Theodora have also been blessed with twenty-one great grandchildren and two great great grandchildren.
Being born and raised in Joliet, Thomas found his fair share of mischief along with his cousins and friends in his youth. He always had an independent nature about him, and never allowed fear to steer him away from a desired goal. In 1960, he married the love of his life Theodora, and the two set to work building their legacy. For Thomas, the important things in life were relatively simple; family comes before all else, country is to be honored and respected, and a man's relationship with God must be tended to regularly, which he was proud to partake in as a devout original member of the St. Mary Magdalene Catholic Church. In 1975, Thomas founded Timm Electric Incorporated and served as General Manager for the rest of his career. He was a proud member of the IBEW Union Local #176, a member of NECA, a member of the Fraternal Order of the Eagles, a member of the St. Mary Magdalene Holy Name Society, a former trustee for the East Joliet Fire Protection District, and also served on the Board of Directors for the Cornerstone Services organization. Thomas was a well-respected, self-made man who was incredibly proud of his family and the beautiful homestead that he painstakingly created for them to enjoy. When he was faced with a challenge; whether his courageous battle with diabetes, or the crushing loss of his son Kevin at far too young of an age, he stood up to that challenge and refused to wither under the weight. He believed that he could carry anything on his shoulders in order to protect the ones he held most dear. His motto was "I won't back down", and he lived by that maxim with stoic determination. Even in his final moments, he was careful to ask about Theodora and her comfort, when the longing to find his own comfort must have been overpowering. His family will forever walk in his footsteps, without ever considering that his shoes could ever be filled.
A visitation for Thomas McGann will be held on Sunday December 4, 2022 from 2:00 – 6:00 pm at the Fred C Dames Funeral Home, 3200 Black Rd. (at Essington) Joliet, IL. A funeral mass will follow on Monday December 5, 2022 at 10:00 am at St. Mary Magdalene Catholic Church, 127 S Briggs St, Joliet, IL.
In lieu of flowers, the family requests that donations in Thomas' name be made to either Lightways Hospice or Cornerstone Services, or mass card offerings to the catholic church.