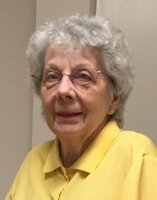 Faith Lorraine Bekker
Faith Lorraine Bekker, age 89, of Morris, IL passed away peacefully surrounded by her loving family at Lightways Hospice in Joliet. Born to George Klein and Edna Mae Klein (nee Kaldem) in Chicago, IL, Faith moved to Gardner, IL at the age of seven to live with her grandmother Millie Springborn after the untimely passing of her mother while her father was overseas serving in World War II.
Faith was preceded in death by her parents, her husband of 52 years Donald C. Bekker, and her brother Edward Klein.
She is survived by her sons William P. (MaryAnn) Bekker and Robert C. (Robbie) Bekker. Her grandchildren Jennifer Bekker, Veronica Bekker, and Amanda Bekker as well as six great-grandchildren. Multiple nieces and nephews also survive.
Faith carried fond memories of her youth spent in Gardner, she would often play in the old streetcar that was in the backyard of their home which is now restored and maintained as a historical monument in Gardner to this very day. She built the foundation of her lifelong work ethic as a waitress at Clovers Restaurant in Gardner as a teen, and never forgot the times she shared with the other employees whom she always remembered as friends. Faith met her husband Donald while the two were working at Mack Truck in Chicago. They had a whirlwind courtship which resulted in marriage after only weeks of knowing each other. But when you know, you know, and that is evident by the 52 years of wedded bliss that they enjoyed together until his passing in December of 2008. Faith held numerous part-time jobs throughout her life as she was proud to help supplement the family finances. She started what would ultimately be her dream job at the age of 57 when she started to work as a hostess for the Kentucky Fried Chicken restaurant in Morris, IL. She worked in that position until her retirement at the age of 82. That KFC in Morris served as a meeting place for families and friends and filled her later years with a purpose and a passion that cannot be overstated.
As it was Faith's wish, her earthly remains were cremated and she will be inurned at her final resting place at the Abraham Lincoln National Cemetery with her husband Donald. The family of Faith Bekker would like to make a special mention of gratitude to the entire staff at Rock Run Place Memory Care Assisted Living Facility for the extraordinary care and compassion that they provided for more than six years of Faith's life.
In lieu of flowers, any memorials that anyone would wish to make in Faith's name can be directed to either Rock Run Place Memory Care and/or Lightways Hospice Facility.