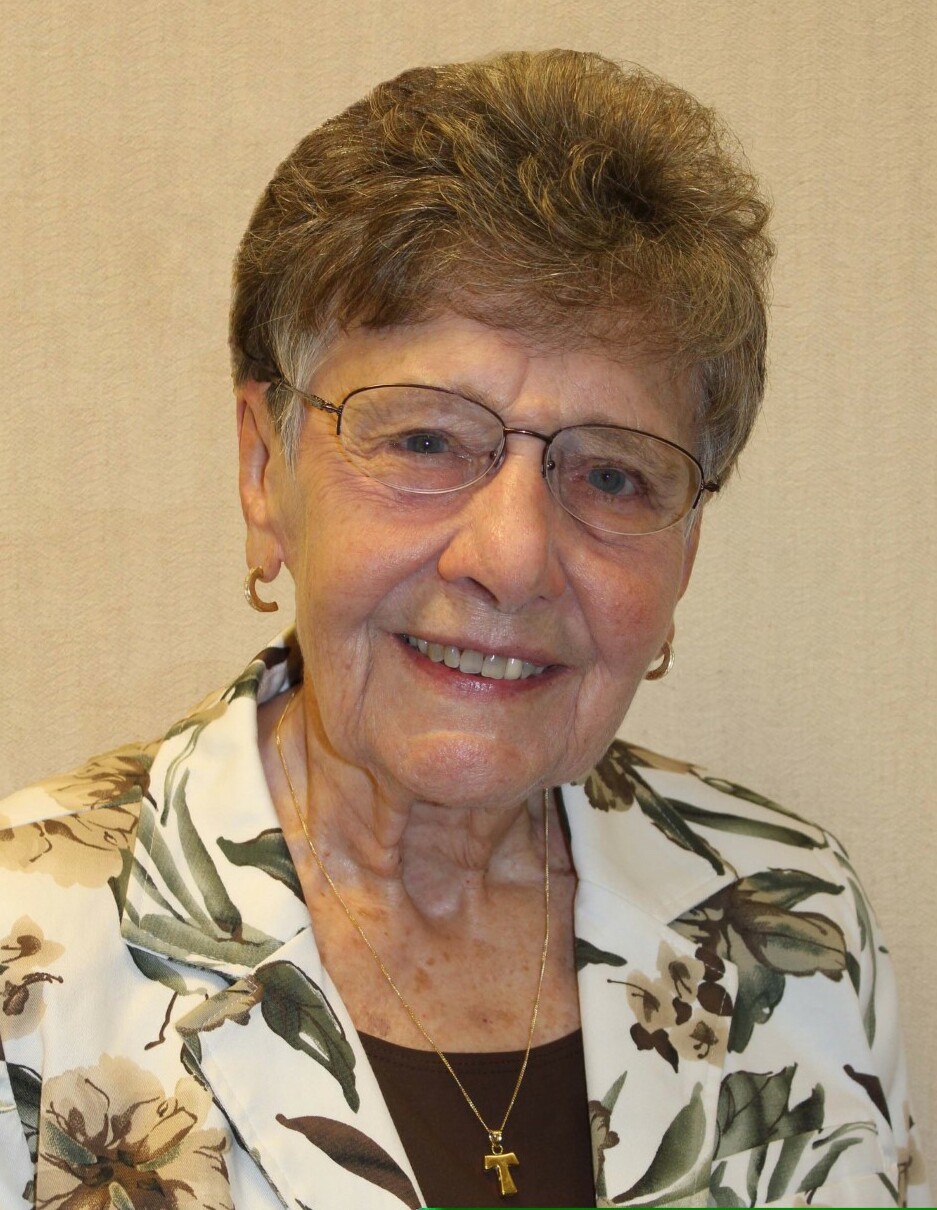 Sister Vivian Whitehead, OSF
A native of Chicago, Sister Vivian (Mary Michelyn) Whitehead was born August 14, 1927, to the late Margaret (Kersten) and Fred Whitehead, and passed to eternal life December 3, 2022, at Our Lady of Angels Retirement Home. She was preceded in death by her sister, Annette Leah Nordmark and her niece Susie Nordmark. Sister Vivian is survived by her brother Larry (Betty) Whitehead, and her brother-in-law, Don Nordmark. She will be fondly missed by her nieces and nephews. Sister Vivian will continue to live in the hearts of many friends and the people whose lives were touched by her presence and ministry. She was 95 years of age and a Joliet Franciscan for 74 years.
Sister Vivian attended St. Dorothy Grade School and Loretto Academy Woodlawn in Chicago. She received her bachelor's degree from the College of St. Francis, and her Ph.D. in biology from St. Bonaventure University, New York. In 1950 Sister Vivian began her teaching career at St. Mary High School in Columbus, Ohio. From 1952 to 1962 she taught biology, math, and religion at St. Francis Academy. After receiving her Ph.D., she returned to Joliet as associate professor of biology at the College of St. Francis (University of St. Francis) from 1965-1968.
Sister Vivian was elected to the congregation governing board and served as councilor and coordinator from 1968-1976. She ministered at the University of Notre Dame from 1976-1979. In 1979 she returned to Joliet and founded the Center for Correctional Concerns, serving as director from 1979-1988. In 1988, she was elected president of the Sisters of St. Francis of Mary Immaculate. In 1992, she moved to David, Kentucky, and spent six years in Appalachia as an adult education and family literacy teacher. In 1999 she returned to Joliet continuing her jail ministry. She ministered to incarcerated women in the Will County Adult Detention Facility until she left her beloved ministry in October of 2022.
Visitation for Sister Vivian Whitehead will take place on Sunday, December 11, 2022, 3:30 – 6:00 p.m. at Fred C. Dames Funeral Home and on Monday, December 12, 2022, at 8:30 a.m. at our Lady of Angels Retirement Home. The Funeral Mass will follow at 9:00 a.m. at our Lady of Angels Retirement Home. Remembrances and Committal will take place at 10:30 a.m. in the Chapel at Resurrection Cemetery, 200 W. Romeo Rd. Romeoville, IL 60446. All are invited to attend.
If you would like to make a donation in honor of Sister Vivian Whitehead or another Joliet Franciscan Sister, please send your memorial to the Sisters of St. Francis of Mary Immaculate, 1433 Essington Road, Joliet, IL, 60435.
For more information, please call (815) 741-5500 or visit her Memorial Tribute at www.fredcdames.com