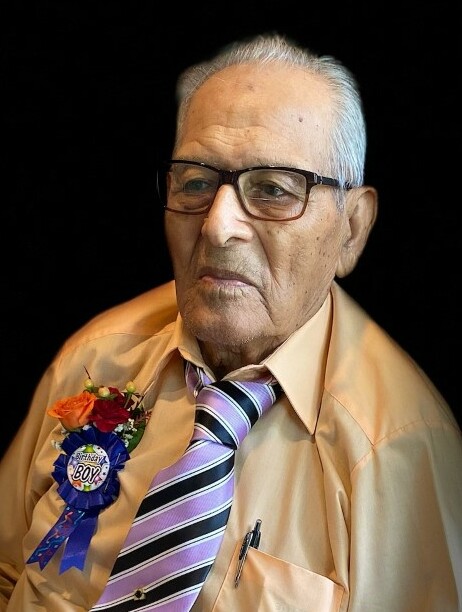 Nabor Venegas
Nabor Venegas, age 102, of Joliet, IL passed away on Thursday, December 8, 2022, in his home. He was born on October 14, 1920 to Salome and Josephine (nee Glacia) Venegas in Lockhart, Tx.
Nabor spent a great deal of his life in Joliet, IL as well as Austin and McAllen Texas. He was admirably independent and incredibly young at heart as he was able to care for himself to the very last. Despite the significant challenges of losing multiple children and his devoted wife, Nabor found the strength and courage to continue on and provide a wonderful example for the rest of his family of how a person can choose to persevere.
Nabor is survived by his children, Sal (Maria L.) Venegas, Nabor Venegas Jr., Socora "Cora" (Philip) Torres, Maria (Harold) Kuhn, and Marcos Venegas (Roel Garcia); and was a proud and devoted grandfather and great-grandfather to many. Several nieces and nephews also survive.
He is preceded in death by his his beloved wife of 74 years, Maria (nee Zamarripa) Venegas; his parents; and his daughters, Sandy (George T.) Ivey, and Adelita Venegas (in infancy).
Visitation for Naobor Venegas will be held on Wednesday, December 14, 2022, from 3:00 p.m. to 8:00 p.m., at the Fred C. Dames Funeral Home, 3200 Black Rd (at Essington Rd.), Joliet, IL. Funeral Services will be held on Thursday, December 15, 2022, at 10:00 a.m. at the funeral home chapel. Interment will following at Woodlawn Memorial Park.
In lieu of flowers, memorials in his name to Lightways Hospice, 250 Water Stone Circle, Joliet, IL, 60431, would be appreciated.
For more information, please call 815-741-5500, or visit his Memorial Tribute at www.fredcdames.com where you can share a favorite memory, or leave it online condolence.