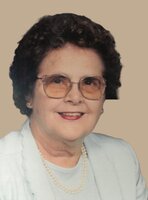 Claire C. Obermiller
Claire C. Obermiller, age 97, of Crest Hill, IL since 2000, and formerly of Clinton, IA, passed away peacefully, Tuesday, December 13, 2022 at her home at the Inn at Willow Falls.
Born December 1, 1925 in Clinton, IA, she was the daughter of the late Harold E. and Clara (Hansen) Cramm. She married the love of her life, H. Edward Obermiller, and they enjoyed many years of marriage until his sudden passing November 24, 2004. Four brothers and sisters also preceded her in death.
Claire was a loving and devoted wife, mother, grandmother, great-grandmother and great-great-grandmother who will be remembered for her strength and character. She attended Mount St. Clare College where she received her Bachelor's degree in Education, and enjoyed the distinction of being the first married woman to be accepted into their program.
She then embarked on a rewarding career as an elementary school teacher for 30 years in the Clinton, IA area. When not in the classroom, she enjoyed supporting charitable and veterans' activities with her husband and being active in politics. She was also a faithful member of the Chancy Lutheran Church in Clinton, and Faith Lutheran Church in Joliet, IL and a devoted Cubs fan.
Claire is survived by her children, Sue (Joseph) Highland and John (Ellen) Obermiller; ten grandchildren; twelve great-grandchildren; and great-great-grandchildren.
Services for Claire Obermiller will be private and interment will be in Woodlawn Memorial Park, Joliet, IL. Fred C. Dames Funeral Home is in charge of arrangements. For more information, please call (815) 741-5500 or visit her Memorial Tribute at www.fredcdames.com