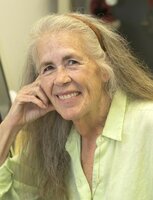 Lora J. Albritton
Lora J. Albritton, age 68, passed away peacefully on Thursday, December 15, 2022 at the Lightways Hospice Home in Joliet. Lora was born on August 5, 1954 in Joliet to the late Fay and Dorothy (nee McGrath) Albritton. She spent time in Brussels, Belgium when she was young, when her father worked there for Caterpillar. Upon returning to Joliet, she graduated from St. Francis Academy, and earned her Bachelor's Degree from the College of St. Francis. It was Lora's life's work to serve her fellow man and woman. After graduation, she spent time in Missouri as part of the VISTA program, and then time in Palau as a member of the Peace Corps. Lora then settled in Key West, and spent over 40 years as a social worker for Monroe County, Florida.
Lora is survived by her dear friend and brother-in-law Robert Smith; her nephews Michael Smith and Bobby Smith: and niece Devyen Wingerter, all of Joliet; numerous other nieces, nephews, great nieces and great nephews; her Florida family, Karen and Scott Gibson, their daughter Molly (Matthew) Newman, and granddaughter Maeve; Annie and Jimmy Anderson; goddaughter Ally Manderbach; and good friend Helen Garcia.
She is preceded in death by her parents; sisters Mary Jo Smith, Ann Briong, and Susan Worley; brother James Albritton; and numerous aunts, uncles, and cousins.
As it was her final wish, cremation rites have been accorded. Inurnment to be scheduled for the coming spring, where Lora will be laid to rest alongside her mother. Memorials in her name can be made to Lightways Hospice. Arrangement entrusted to the Fred C. dames Funeral Home, Joliet. For more information, please call 815-741-5500, or to leave an online condolence, visit her Memorial Tribute page at www.fredcdames.com.