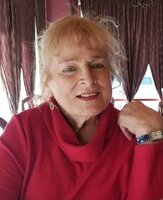 Barbara Ann Sontag
Barbara Ann Sontag, age 80, passed away peacefully surrounded by the love of her family on Friday, December 30, 2022 at Rock Run Place in Joliet. Born in Joliet on December 13, 1942, Barbara was a lifelong area resident. On September 26, 1964, she married William Sontag, and the two most recently celebrated 58 years of marriage. When she was younger, Barbara worked for a time as a school teacher, but after the birth of her first child, she devoted her life to the care and upbringing of her children. Her life was her family, and after her children had grown, she enjoyed spending time with her grandkids. Whether it was hockey, baseball, or ice skating, Barbara enjoyed taking part in any activity they were involved in. Stock car racing was also a family affair. Barbara was always there at the track supporting her children and grandchildren at Grundy County Speedway and other tracks around the Midwest.
Barbara is survived by her loving husband, William Sontag; her children, Shelly (Chad) Hull, Billy (Linda) Sontag, Mark (Michelle) Sontag, Brett Sontag, Chris Sontag, Sarah (Brian) Drumm, Stephanie (Adam) Sontag, and Josh (Sarah) Sontag; her 15 grandchildren, Brandon, Brittney, Emily, Mark, Jr., Zach, Donovan, Kendall, Christa, Logan, Kaylyn, Cameron, Morgan, Chase, Skyler, and Sadie; many great grandchildren; Sister Char (the late Frank) Glowaty; brothers Ron (Pat) Mentzer and Ed Randich; and numerous nieces, nephews, and cousins.
She is preceded in death by her mother Ann Randich; her father, Charles Mentzer; her step-father who raised her as his own, Ed Randich; and granddaughter Kristi Sontag.
All family and friends are invited to a celebration of Barbara's life to be held on Friday, January 13, 2023 from 5-8 p.m. at the American Legion Post 1080 hall, 2625 Ingalls Ave, Joliet. Memorials in her name can be made to the Alzheimer's Association. Arrangements entrusted to the Fred C. Dames. Funeral Home, Joliet. For more information, please call 815-741-5500, or to leave an online condolence, visit her Memorial Tribute page at www.fredcdames.com.