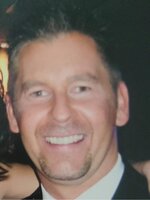 John & Eric Blaskey
John P. Blaskey, age 84, of Shorewood, IL passed away peacefully on January 2, 2023, at his daughter's home in Plainfield, IL. He was born May 28, 1938, in Lockport, IL the son of the late Frank and Katherine Blaskey.
John graduated from Lockport Township High School class of 1956. He went on to serve in the U.S. Army. He married Penne Habich on June 5, 1965, and raised their two children, Karen and Eric in Lockport, IL.
He is survived by his daughter, Karen Haas; granddaughter, Rebeca Haas; sisters, Jan Pope and Shirley Myers; and brother, Raymond Blaskey; many nieces, nephews, and dear friends also survive.
Preceded in death by his wife, Penne Blaskey; son, Eric Blaskey; sisters, Lillian Blaskey, Helen Sartori; brothers, Eugene Blaskey, Frank Blaskey, and Lawrence Blaskey.
Eric Blaskey, age 51, of Shorewood, IL passed away on April 12, 2022. He was born November 12, 1970, in Joliet, IL the son of the late Penne (nee Habich) and John Blaskey.
He had worked as a personal trainer for Midtown Athletic Club in Willowbrook before starting his own personal training services. He had a passion for coaching and helping people realize their personal goals.
Memorial visitation for John P. and Eric Blaskey will be Tuesday, January 10th, 2023, at the Fred C. Dames Funeral Home, 320 Black Rd. (at Essington Rd.), Joliet, IL, from 10:00 a.m. until the time of the Memorial Service at 12:00 noon. Private inurnment for John P. Blaskey will take place at Abraham Lincoln National Cemetery, Elwood, IL.
In lieu of flowers, memorial donations may be made to the American Foundation for Suicide Prevention.
For more information, please call (815) 741-5500 or visit their Memorial Tribute at www.fredcdames.com