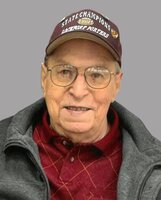 Lawrence "Larry" Janovyak
Lawrence Janovyak, passed away suddenly, Thursday, January 5, 2023 at Ascension St. Joseph Medical Center in Joliet. He was born in Chicago on September 26, 1934 to the late Louis and Mary (nee Marusek) Janovyak, and was a graduate of Joliet Central High School. Larry was a proud veteran of the United States Army, serving during the Korean War. Following the war, Larry worked for Caterpillar in Joliet for many years before retiring in 1990. Following his retirement, Larry enjoyed spending his time fishing, bowling, and spending time with his grandchildren and great-grandchildren. He was a member of the American Legion Post 1080, the Joliet Moose Lodge, the Will County Senior's Club, and the Moran AC. He was an avid Chicago Cubs and Chicago Bears fan, but his absolute favorite teams to watch was whichever ones his grandchildren were playing for.
Larry is survived by his loving wife of 65 years, Carol Lee (nee Nagra) Janovyak; his children, Patricia (Robert) Smith, Denny (Renee) Janovyak, Mary Reardon; Christine (Richard) Ackerson; his grandchildren, Michael (Victoria) Janovyak, Brittany (Matthew) Paetkae, Amber (Deven) Sisler, Ryan Reardon, Nicholas (Rebecca) Reardon, Douglas Ackerson, Danielle (Josh) Larsen, and Dana Ackerson; his 13 great grandchildren, Harrison, Berkley, and Nora Janovyak, Mattison Paetkae, Tyron, Jack and Frankie Sisler, Georgia and Piper Reardon, Amelia Reardon, Luke Ackerson, and Carter, Avery and Hadley Larsen; and numerous nieces and nephews.
He is preceded in death by his parents; granddaughter Natasha Reardon; his brother, Albert (Mary Terese) Janovyak; and his sister, Mary Ann (Robert) Murphy.
Visitation for Larry Janovyak will be Monday, January 9, 2023, from 3-7 p.m. at the Fred C. Dames Funeral Home, 3200 Black (at Essington) Rd., Joliet. Funeral services will take place the following morning, Tuesday, January 10, 2023 beginning at the funeral chapel at 9:00 a.m. and proceeding to St. Ambrose Catholic Church in Crest Hill for a Mass of Christian Burial at 10:00 a.m. Full military honors to be conducted by the United States Army following Mass. Interment to follow at a later date at St. Mary Nativity Cemetery in Crest Hill. In lieu of flowers, memorials in Larry's name can be made to a charity of the donor's choice. For more information, please call 815-741-5500, or to leave an online condolence, visit his Memorial Tribute Page at www.fredcdames.com.