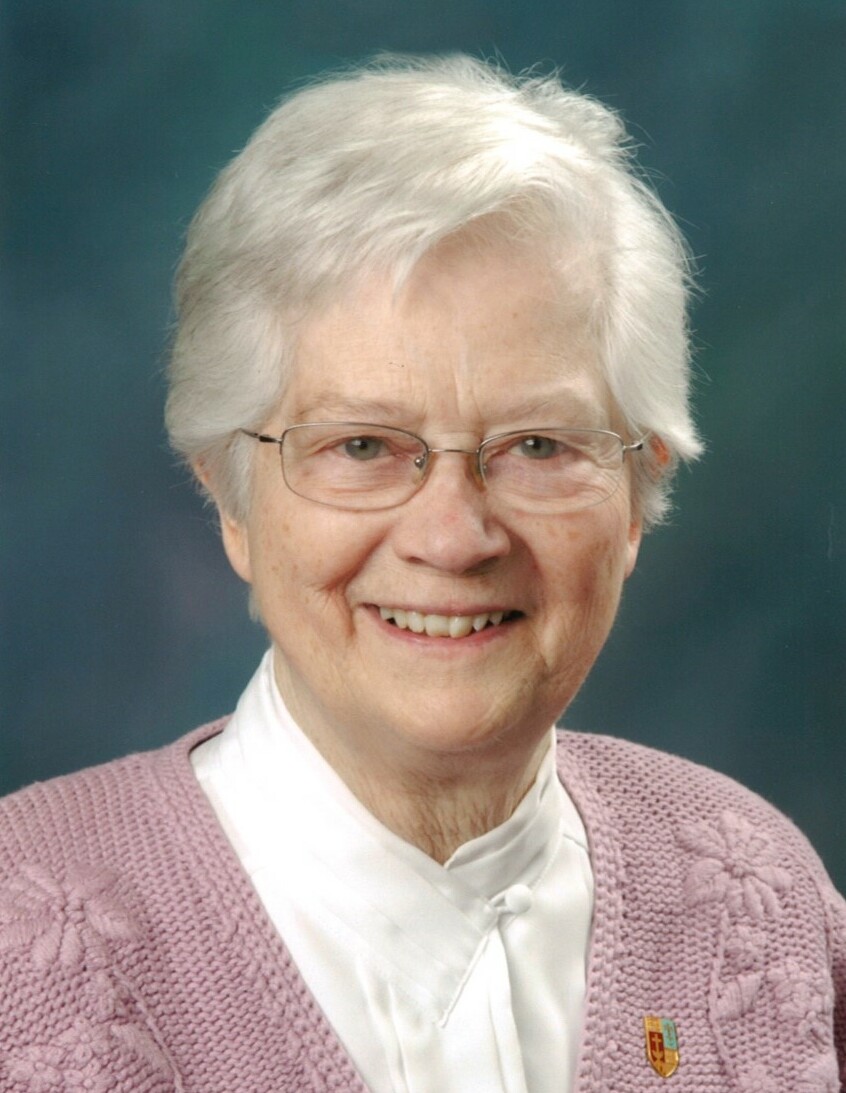 Sr. Verene Girmscheid, OSF
Sister Verene (Robert Ann) Girmscheid passed into eternal life January 11, 2023, at Villa Franciscan Place. She was 88 years of age and a Joliet Franciscan for 71 years. Sister Verene loved her ministries as a teacher, pastoral minister, and spiritual director.
A Wisconsin native, Sister Verene Girmscheid was one of seven children born to Theresa (Marx) and Robert Girmscheid in Manawa, Wisconsin. The family moved from rural Wisconsin to the southside of Chicago. In 1948, Sister Verene attended St. Francis Academy (Joliet Catholic Academy) Joliet, Illinois. She received her BA from the College of St. Francis (University of St. Francis) Joliet, Illinois, 1964, and her MA in Education from Loyola University, Chicago, Illinois, 1971. In 1977, Sister Verene completed graduate coursework in counseling psychology and spiritual development at the Institute for Spiritual Leadership at the Jesuit School of Theology in Chicago.
Sister Verene taught elementary school in Freeport and Elgin, Illinois; and Columbus and Worthington, Ohio, high school in Joliet, Illinois, St. Francis Academy, (Joliet Catholic Academy); served as rector and worked in Student Services as an adjunct instructor in ministerial formation at the University of Notre Dame, South Bend, Indiana; was Campus Minister at Chicago State University; and served the Joliet Franciscans in various leadership positions. The ministry that she enjoyed most was at the Institute for Spiritual Leadership in Chicago, where she worked with students from many countries and companioned them in their personal and spiritual journey.
Preceding Sister Verene in death were her parents, Theresa and Robert, her sisters, Theresa Girmscheid, Mardell Druzik, and her brother-in-law, Walt Draus. She is survived by her brothers Robert Girmscheid, Llewellyn (Joan) Girmscheid, Lambert (Sue) Girmscheid, her sister Geraldine Draus, her brother-in-law Jack Druzik, many nieces, and nephews. Sister Verene will continue to live in the hearts of many relatives and dear friends.
Visitation for Sister Verene Girmscheid will take place at 8:30 a.m. at Our Lady of Angels Retirement Home on Friday, January 20, 2023, followed by the Mass for Christian Burial at 9:00 a.m. Remembrances and Committal will take place at 10:30 a.m. in the Chapel at Resurrection Cemetery, 200 W. Romeo Rd. Romeoville, IL 60446. All are invited to attend.
If you would like to make a donation in honor of Sister Verene Girmscheid or another Joliet Franciscan Sister, please send your memorial to the Sisters of St. Francis of Mary Immaculate, 1433 Essington Road, Joliet, IL, 60435.
For more information please call 815-741-5500 or visit her Memorial Tribute at www.fredcdames.com where you can share a favorite memory or leave an online condolence.