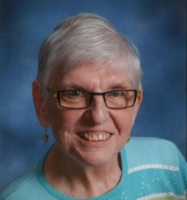 Sr. Suzanne C. Lesniewski, OSF
Sister Suzanne (M. Hope) Lesniewski, OSF, was born in Chicago, Illinois, to the late Pearl (Januchowski) and Harry Lesniewski, on February 15, 1937. She passed into eternal life on January 16, 2023, at Lightways Hospice in Joliet, Illinois. Entering religious life from her home parish of SS Peter and Paul in Chicago, Illinois, she was member of the Joliet Franciscan Congregation for 67 years. Sister Suzanne is preceded in death by her brothers, Jerome (Barbara) Lesniewski, Gregory Lesniewski, and her sister, Barbara (Ernest) Toso. Sister Suzanne is survived by her sister, Virginia (Ronald) Konczalski, many nieces, nephews, and cherished friends.
Sister Suzanne's education began at SS Peter and Paul, Chicago, Illinois and continued at St. Francis Academy( Joliet Catholic Academy), Joliet, Illinois. She earned a BA in history from the College of St. Francis (University of St. Francis), Joliet, Illinois, and a MA in Religious Studies from Mundelein College, Chicago, Illinois. Additional enrichment came from Illinois Institute of Technology, Chicago; Maryknoll College, Glen Ellyn; and many workshops, institutes, and conferences.
Sister Suzanne taught at the elementary school level (Grades 2-8). Her years of service were devoted to Illinois-based parishes/schools. Those early classroom years included St. Ludmilla, Chicago; Sacred Heart, Englewood; St. Francis Xavier, Chicago; St. Mary, Des Plains; Joseph, Freeport; St. Jude and the Cathedral of St. Raymond, Joliet; St. Anne, Lansing. Then she moved into her the ministry as a DRE. Sister Suzanne was the Religious Education Coordinator at St. Matthew, Champaign, Illinois; Religious Education Director, Notre Dame, Clarendon Hills; St. Mary's, West Chicago; and St. John the Baptist in Winfield. In 1989, Sister Suzanne became the DRE at St. Joan of Arc in Lisle; St. Joseph, Addison; and St. Theresa, Aurora; St. Scholastica, Woodridge.
Visitation for Sister Suzanne Lesniewski will be held at 8:30 a.m. at Our Lady of Angels Retirement Home on Monday, January 23, 2023, followed by the Mass for Christian Burial at 9:00 a.m. Remembrances and Committal will take place at 10:30 a.m. in the Chapel at Resurrection Cemetery, 200 W. Romeo Rd. Romeoville, IL 60446. All are invited to attend.
If you would like to make a donation in honor of Sister Suzanne Lesniewski, or another Joliet Franciscan Sister, please send your memorial to the Sisters of St. Francis of Mary Immaculate, 1433 Essington Road, Joliet, IL, 60435.
For more information please call 815-741-5500 or visit her Memorial Tribute at www.fredcdames.com where you can share a favorite memory or leave an online condolence.