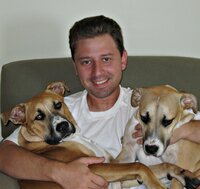 Sammy Ali Alexander
Sammy A. Alexander, age 48, of Crest Hill, Illinois, passed away suddenly on February 26, 2023. Sam grew up in Evanston, Illinois and attended ETHS. He went on to earn his Bachelor of Science Degree in Engineering from Northwestern University. Go 'Cats!
He was an accomplished engineer, earning multiple patents early in his career for his designs. He made everyone so proud, and he excelled with ease. Calculus came so easy to him that he even tutored students in it.
Sam loved to reminisce about his days at Theta Chi, working at the Evanston Golf Club, and the many music concerts he attended throughout the years. He rarely missed a Clutch show. He enjoyed sports (especially the Chicago Cubs), heated Reddit debates, and visiting with friends. He loved dogs, playing Marvel Contest of Champions, video games in general, and graphic novels.
Sam will be remembered for his dry humor and biting wit. He enjoyed long conversations with everyone – be they people he just met or lifelong friends. He was incredibly loyal and could always be counted on.
Survived by his sister Elisabeth and niece Emily, dear friend Christi, and best friend Eric. He was an adoring godfather to Peyton and best buddy to Philly – whom he lovingly helped raise since Philly was first brought home. He will be greatly missed by all who love him and who were blessed to know him.
Preceded in death by his parents, Juan and Sybel Vega and his beloved dogs, Pablo and Raul.
In lieu of flowers, donations may be made to TLC Animal Shelter, 13016 W. 151st St., Homer Glen, IL 60491, tlcanimalshelter.org
Details for a Celebration of Life to follow. Please visit his Memorial Tribute at www.fredcdames.com where you can share a favorite memory and Sammyism.